Volunteers needed for Great Texas River Clean Up in March
SAN MARCOS, Texas - The City of San Marcos, Texas State University and the City of Kyle are calling on volunteers to register for the 35th Annual Great Texas River Clean Up.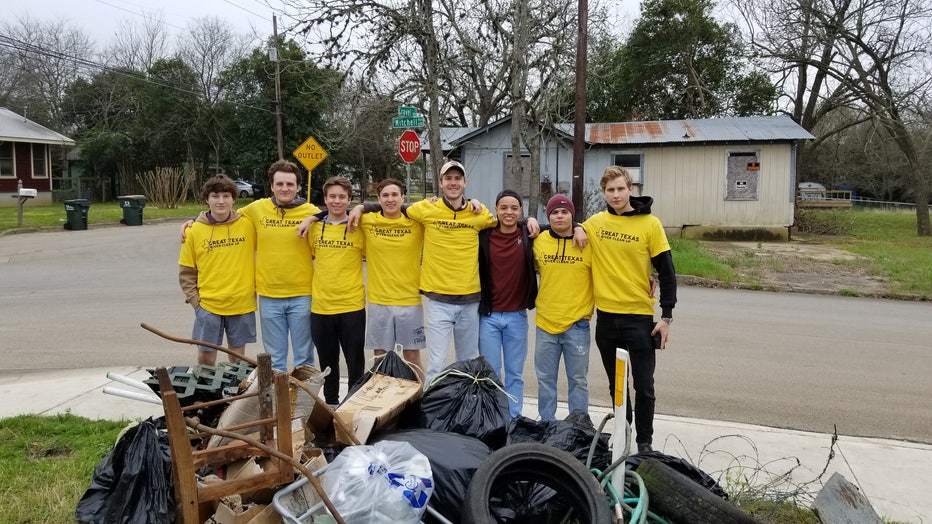 Volunteers at the 2019 Great Texas River Clean Up (City of San Marcos)
The annual event, which takes place on March 7 from 8:30 a.m. to 12 p.m., aims to pick up litter along all 90 miles of the San Marcos River.
This year, the Great Texas River Clean Up is going statewide and Keep Texas Beautiful is dedicating March to cleaning Texas waterways and is encouraging communities to organize a waterway cleanup. 
Those looking to participate in the upper San Marcos portion of the clean up from Sewell Park to Stokes Park are asked to sign up online and select one of the 12 available watershed locations. Participants can also contact Keep San Marcos Beautiful at 512-393-8419 or email akirwin@sanmarcostx.gov. Visit online to see a complete list of the locations and headquarters.
Volunteers who want to take part in the lower San Marcos River portion from Stokes Park to the Guadalupe River should contact Tom Goynes at 512-787-5574 for more information. 
On cleanup day, volunteers are asked to check-in at the watershed headquarters at 8:30 a.m., sign in, and meet up with their team leaders to receive supplies and instructions. Volunteers will receive a breakfast taco and then pizza for lunch. T-shirts are offered on a first-come, first-served basis.
Abatix, Carson Properties, Edwards Aquifer Authority, Guadalupe Blanco River Authority, H.E.B./Central Market, Honda San Marcos/David Cook, Jacob's/CH2M, Keep Texas Beautiful, San Marcos Chamber of Commerce, San Marcos Lions Club and Sur-Powr Battery all have donated to the event, says the city.
The annual cleanup event is sponsored by the Texas River Protection Association, the City of San Marcos, Keep San Marcos Beautiful, Habitat Conservation Plan, Texas State University and the City of Kyle.