FOX 7 Friday Football Game of the Week: Dripping Springs vs Westlake
WESTLAKE, Texas - Week 8 of the Central Texas high school football season brings another FOX 7 Friday Football Game of the Week!
Every Thursday, FOX 7 Austin will feature one upcoming high school football game and offer you, the viewer, the chance to vote on who you think will win.
FOX 7 Austin is now on the FOX LOCAL app available through Apple TV, Amazon FireTV, Roku and Google Android TV!
First place in district is on the line as the No. 22 ranked Dripping Springs Tigers visit the No. 4 ranked Westlake Chaparrals. This is the state's only Class 6A match-up this week that features two state-ranked teams. 
Westlake is off to what's become its usual perfect start to the regular season, sporting a 6-0 record, including wins in their first four district games. Westlake, coming off a 67-14 win over Anderson, has not lost a regular season game since 2019. 
Dripping Springs is enjoying another successful season in just its second year in Class 6A. After losing their season opener to now-No. 5 ranked and undefeated Vandegrift, the Tigers have reeled off five straight wins including last week's 48-0 win over Akins.
Dripping Springs' five straight wins have come against a soft part of their schedule, but that will change starting this week as the Tigers begin a two-week stretch in which they'll face Westlake then Lake Travis. 
In last year's meeting between these two teams, Dripping Springs held its own for much of the game, but Westlake eventually prevailed, 29-10. 
RESULTS
Viewers backed Dripping Springs this week, but it was Westlake who took home the win.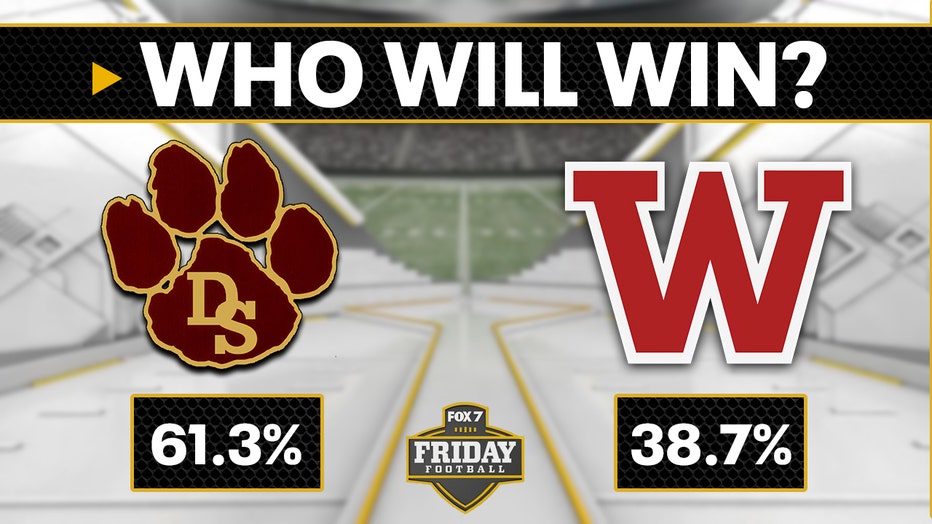 61.3% of voters chose the Tigers to win over the Chaparrals (38.7%).
Westlake scored 20 unanswered points in the second half of Friday's game for a come-from-behind win over the Tigers, ending the game 27-14.