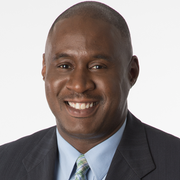 John Hygh
Weekend Sports Anchor/Reporter
Weekend sports anchor and reporter John Hygh has been on the FOX 7 Sports Team since 2006.
An Austin native, John attended high school at Western Hills in Ft. Worth and graduated from Southwest Texas State University with a Mass Communication - Broadcasting degree. Prior to working at FOX 7, John worked at KAMR in Amarillo as well as KVUE and Austin's local cable news channel.
John enjoys spending time with his daughter Kennedy and son John III. On his free days, you might find John playing golf at various courses around the Austin, dining at the Oasis and if you are especially lucky, you could catch him walking on his hands or singing along to a song while hitting some REALLY high notes.
The latest from John Hygh