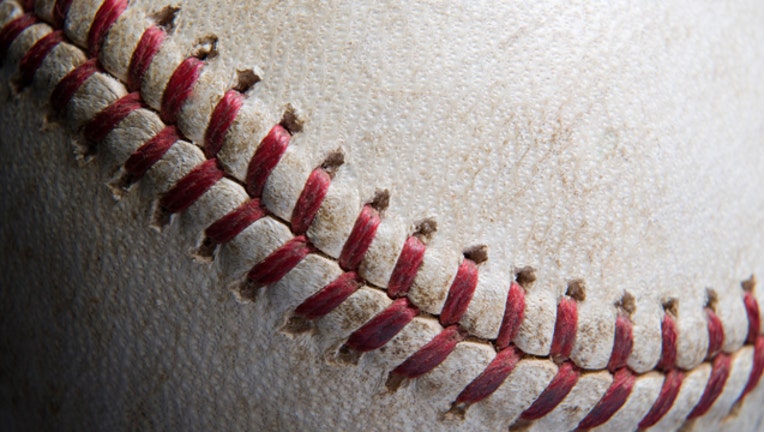 article
RANGERS-ATHLETICS
Andrus, Beltre power Rangers past Athletics
OAKLAND, Calif. (AP) — Elvis Andrus and Adrian Beltre each hit three-run homers in support of Colby Lewis' six strong and the Texas Rangers beat the Oakland Athletics 10-3 Wednesday night to take a three-game lead in the AL West Division.
Rougned Odor also homered, Mitch Moreland, Shin-Soo Choo, Will Venable drove in runs and Prince Fielder ended an 0-for-20 streak as the Rangers magic number fell to eight.
Josh Reddick and Eric Sogard homered and Carson Blair drove in a run for the A's, who lost their fourth straight. Reddick committed two errors in the same game for the first time in his career. Sogard ended a 457-at bat homerless streak.
Lewis (17-8) became the Rangers' first 17-game winner since Scott Feldman won 17 in 2009. He's already set a career high for wins.
Felix Doubront (3-3), who started the season with the Toronto Blue Jays, lasted 4 2-3 innings, allowing seven runs on eight hits. He walked two and struck out four.
ANGELS-ASTROS
Angels rally for 6-5 win over Astros to close wild-card gap
HOUSTON (AP) — David Freese hit a go-ahead two-run double in a three-run eighth inning to help the Los Angeles Angels rally for a 6-5 win over the Houston Astros on Wednesday to close in on the second AL wild-card spot.
Houston's lead over Los Angeles fell to 1 1/2 games. The Astros are 2 1/2 games behind AL West-leading Texas, which plays later Wednesday in Oakland.
In the eighth, Mike Trout hit a leadoff double off Will Harris (5-5) before David Murphy drew a walk with one out and Harris was replaced by Pat Neshek.
Freese's double sailed just beyond left fielder Colby Rasmus on the warning track and made it 5-4. Carlos Perez's RBI single made it 6-4 and chased Neshek.
Trevor Gott (3-2) induced the last two outs of the seventh for the win and Huston Street allowed one run in the ninth before retiring Jed Lowrie for his 40th save.
MLS-SPORTING KC-DYNAMO
Bruin, 10-man Houston beat Sporting KC 1-0
HOUSTON (AP) — Will Bruin scored on an easy tap-in and the 10-man Houston Dynamo beat Sporting Kansas City 1-0 on Wednesday night for the first home victory in the series' last seven meetings.
Houston (10-12-8) won for just the second time in its last seven games. The Dynamo are three points out for the Western Conference's final playoff spot. Sporting KC (12-9-8) lost for the fifth time in seven games.
Bruin scored his 11th goal in the 67th minute. After a give-and-go with Brad Davis, DaMarcus Beasley dribbled to the baseline and sent a ball across goal. Tim Melia dove to get a hand on it, but it found Bruin's feet at the far post.
Melia started after missing two games because of an injury.
Oscar Garcia was sent off in the 70th minute after receiving his second yellow card on a rough challenge with Dominic Dwyer.
REFEREE HIT
Players who hit referee to remain in alternative school
SAN ANTONIO (AP) — Two Texas high school football players who hit a referee during a game earlier this month will remain in alternative school for the rest of the year.
Officials with Northside Independent School District in San Antonio have decided senior Michael Moreno and sophomore Victor Rojas will remain in alternative school for 75 days. Their attorney, Jesse Hernandez, says they will be eligible to return to their regular classes at John Jay High School on Jan. 15.
The decision came after a closed-door disciplinary hearing Wednesday.
In an internal district statement, John Jay High principal Robert Harris said assistant coach Mack Breed told him he directed the students to hit the referee because the ref had used racial slurs and had missed calls. Details from the statement were first reported by ESPN.
FALCONS-SEIZE THE MOMENT
Falcons look to seize the moment against ailing Cowboys
FLOWERY BRANCH, Ga. (AP) — Everything seems to be falling into place for the Atlanta Falcons.
First, they knocked off a Philadelphia team in disarray. Then, they rallied against the New York Giants, who can't seem to run out the clock.
Now, the Falcons head to Dallas to take on the Cowboys, who are missing quarterback Tony Romo and star receiver Dez Bryant. Another win would give Atlanta only the fifth 3-0 start in franchise history.
Time to seize the moment.
Coach Dan Quinn stresses that his team is not taking the Cowboys (2-0) lightly. But there's no denying the Falcons' chances of another victory went up significantly when Romo broke his collarbone in a victory over the Eagles last week.
With Brandon Weeden taking over at quarterback, the Falcons are actually favored in Dallas.