Tyler Reddick wins EchoPark Automotive Grand Prix at COTA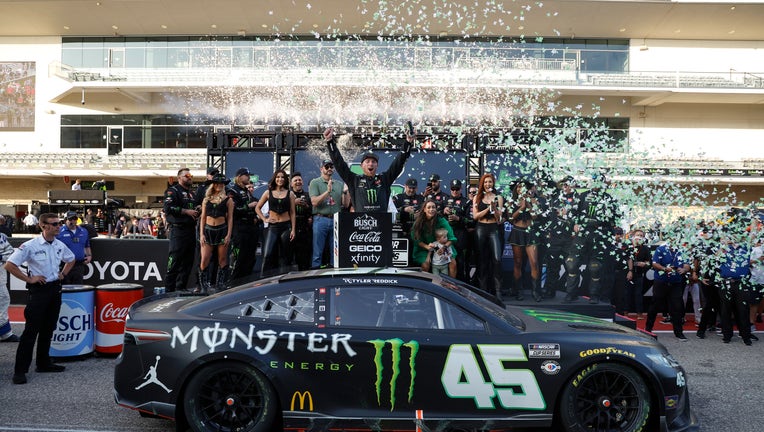 article
AUSTIN, Texas - Tyler Reddick is celebrating a big win at the EchoPark Automotive Grand Prix at Circuit of The Americas on Sunday, March 26 in Austin. It's his first win of the season and the first for 23XI Racing team this year.
After leading only two laps in two previous EchoPark Automotive Grand Prix starts, Reddick had the dominant car Sunday, leading 41 circuits and outlasting the field.
Eight cautions bunched up the field, including three overtime attempts, but strong restarts kept Reddick out of the melee and in command of the race. 
"It means the world," Reddick said in a news release. "This whole 23XI team has been working all winter long to make the road course program better. The only thing that was really on my mind today was how to hang on. It was pretty warm in the car. Thankfully we didn't have one more overtime; I might have been in trouble. I wouldn't say I was nervous. I didn't quite get every restart done perfectly, but we got the one that mattered – the last one."
Kyle Busch, who made the move to Reddick's former Richard Childress Racing team during the offseason, finished second.
"Tyler obviously is a really good road racer," said Busch. "He proved it driving this car last year. I was able to get in it and run right back to him. I've been trying to emulate the things he did in order to make this car fast last year, but not quite all the way there. They had a whale of a car."
Alex Bowman finished third with Ross Chastain finishing fourth. William Byron came in fifth.
23XI Racing is owned by fellow NASCAR Cup Series driver Denny Hamlin, who finished 16th in the race.
Fans can lock in their seats for the 2024 EchoPark Automotive Grand Prix at Circuit of The Americas online at www.nascaratcota.com/events/renewals.