Alleged homeless man released after altercation with downtown building employee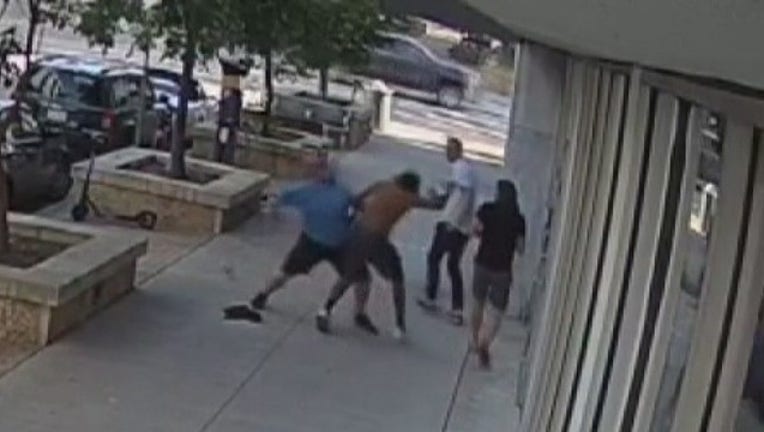 AUSTIN, Texas (FOX 7 Austin) - Working in downtown Austin, Vaughn building parking attendant Jared Carter says he is constantly plagued by troubling interactions with members of the city's homeless community. 
"Doesn't go a week where I'm not contacting [the Austin Police Department] about a situation with our transient, or our homeless community, so -- and it's becoming a growing problem." he said. 
On Wednesday, things turned violent when Carter asked an alleged homeless man to leave the Vaughn building property. He believes the man was smoking an illegal substance in front of the building. 
He says the man became "irate," threatening to kill him, and threw water in his face. Carter called 911 twice, and he says the second call prompted the man to attempt to punch him in the face. 
"He had made slight contact with the side of me," Carter said. "But I was able to move out of the way and defend myself accordingly. And I wasn't gonna stop until he was subdued." 
Police arrived, but the man was not arrested. On Friday, he remained on the same street.
"It definitely puts me on edge that man's a block away." said Carter. 
On Friday, Austin Police Chief Brian Manley was asked why the homeless man was not arrested after he was caught on camera being aggressive -- the first to throw a punch. 
"I don't believe that the officer on scene was aware that the video existed," Manley said. "Because with that video, if it didn't occur in the officer's presence, that might have been something we could have used to substantiate an on-scene arrest."
Carter says in the heat of the moment he didn't think to go looking for surveillance video, and police did not ask for it. 
"This is something that we're going to put out to our officers as a training bulletin as well," Manley said.  In these instances make sure to see if there's any video, or any surveillance cameras that might have captured the incident."
Manley says witness testimony could have also been used to make an arrest. Carter says three witnesses came forward and two were interviewed.  
"In my personal opinion, I think the homeless have been given kind of a free pass to do what they want." Carter said. 
Ken Casaday, president of the Austin Police Association, says it would be very unlikely with a case C assault, which this would have been because Carter wasn't injured, for an officer to pull video. 
He says even with witness testimony, it wouldn't be unlikely for an officer to opt out of making an arrest.  
"That's a very common thing on Sixth Street especially on Friday nights, you tell people that there's so many of those, that you would be caught up all night handling different cases …" Casaday explained. 
He says even if someone is arrested for a class C assault, they typically only wind up in jail few hours. 
"You see many officers out here when they show up to the scene of a homeless call, and they're pretty nonchalant about the situation because it's a repeat offender," Carter said. 
Since the incident Wednesday, Carter has called 911 to report the same man for criminally trespassing at the building. He says the man was not arrested, because he wasn't on scene when officers showed up. 
"If they've left the scene, and they're two blocks away there's nothing we can do about it…" Casaday explained. 
Casaday says even if the man was arrested for criminal trespassing, he would likely be back on the street in 24 hours. 
"Unfortunately, there's absolutely nothing the police can do about that," Casaday said when asked about what civilians and police can do to deal with someone who is a constant nuisance.  
"Now, if they become a danger to themselves or others, a person can be committed to a mental institution or to the hospital. But, unless they are causing injury, or a threat to others, there's absolutely nothing the police could do in that situation."
When asked to define "danger", he said he couldn't. 
"I know what I personally think that is but another police officer may disagree with me," Casaday said. "That's the way they've written these ordinances, and that's what I'm talking about with the vagueness it leaves everything up for question."
The ordinances Casaday is referring to are those pertaining to homelessness, recently changed by city council. 
"City council needs to be held accountable for what's going on, on the streets of the city of Austin." Carter stated.