Austin police officer killed, 3 others dead after South Austin shooting
AUSTIN, Texas - The Austin Police Department is mourning the loss of one of its officers who was killed in a shooting in South Austin.
The shooting happened in the 9300 block of Bernoulli Drive.
At a news conference, officials went over the timeline of events saying that the incident began at around 2:49 a.m. when 9-1-1 received a call from someone requesting help and saying that someone was stabbing her.
The first officer arrived at the scene at around 2:57 a.m. and officers were informed that there were two others inside the home injured.
Officials say that prior to the arrival of officers, a third victim had escaped from the home and was located by EMS in the neighborhood. The victim told EMS that the suspect still had a knife. She was taken to the hospital at 3:03 a.m.
Meantime, at 3:00 a.m., officers forced entry into the Bernoulli Drive home in an attempt to rescue the two people inside. They were fired upon by the suspect and officials say the officers backed up and did not return fire at that time.
A few minutes later, due to the suspect being armed and barricaded, SWAT was called.
SWAT arrived at around 4:11 a.m. and forced entry a second time to rescue the people inside. It was at that time that the suspect fired at SWAT officers and officers returned fire.
Officials say that at around 4:15 a.m., radio communication revealed that two officers had been shot.
The officers were taken to the hospital. One of the officers, SPO Jorge Pastore, died from his injuries.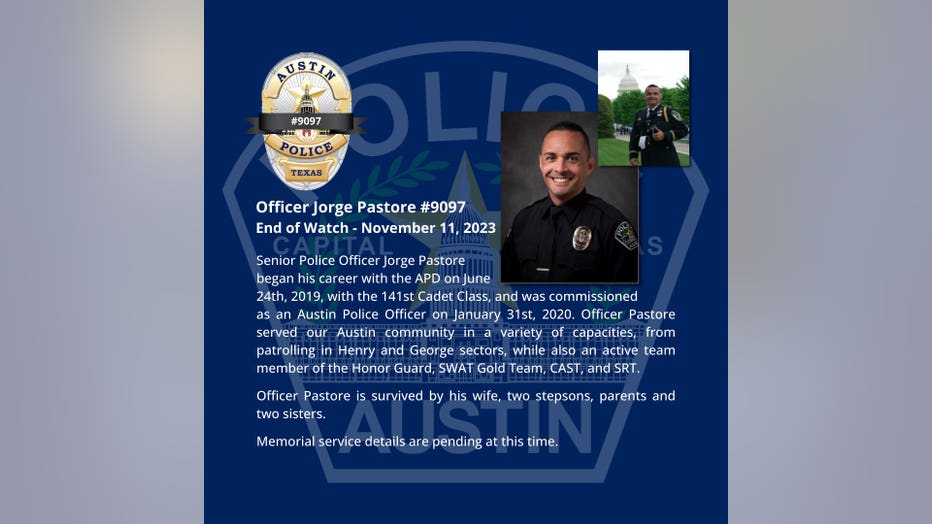 (Austin Police Department)
The other officer was reportedly in stable condition. On Tuesday, Nov. 13, APD said the officer was doing well and is headed home to continue recovering.
"We would like to express our deepest gratitude for the support and well wishes that have flooded in from our community," APD said in a post on X (formerly Twitter).
The two people inside the home, apparent victims of the suspect, were pronounced dead at the scene.
The suspect was also pronounced dead at the scene.
The 100 Club of Central Texas has activated its survivor and critically injured funds in response to the shooting.
Neighbors react
"It is really unsettling and sad, because they are here to help us, and I just feel terrible that he went to work thinking that he was just going to do his job, and then his family has to get that news," one neighbor said.
That neighbor, who wished to remain anonymous, says she has been up since 4 a.m. Saturday after learning of the officer-involved shooting in her neighborhood.
"Woke up to lights and cops all up and down the street and my husband couldn't even leave the neighborhood, he had to go an alternate route. It was chaos," she said.
She says after close to a decade of living in her South Austin neighborhood, this is the first time the streets have been blocked off, filled with police cars, and investigators for a crime scene.
"I have lived here since 2014, and know lots of people from walking around, and I have never felt unsafe here. There have been incidents here and there but never anything violent," the neighbor said.
"It is a peaceful neighborhood, it's very peaceful, it's safe and people walk through here with their dogs at all times of day and night. It's very safe," said Carolanne Kennedy, another neighbor.
A memorial is growing near the Dell Seton Medical Center in honor of the fallen officer, SPO Jorge Pastore, who began his career with APD in 2019.
"It's a shame, it really breaks my heart," Kennedy said.
The neighbors say they are praying for a speedy recovery for the other officer injured in the shooting.
"I know that they have a real sense of brotherhood and sometimes get a bad rap for things that happen towards citizens, but I just feel like it is horrible for them to go into any situation feeling like they might not come out of it," a neighbor said.