Fort Cavazos soldier missing from Killeen, Texas
FORT CAVAZOS, Texas - The III Armored Corps at Fort Cavazos is asking for the public's help in finding a soldier that has not been seen or heard from in almost a week.
Spc. Craig Chamberlain, assigned to the 704th Explosive Ordnance Disposal Company, 79th Ordnance Battalion, was last seen leaving his Killeen home around 6 p.m. May 15 and has not been seen since. 
His chain of command and family have also not been able to contact him.
Chamberlain is a white male with brown hair, hazel eyes, 5'7" and weighs 156 pounds. He was also reportedly last seen wearing a white T-shirt and gym shorts.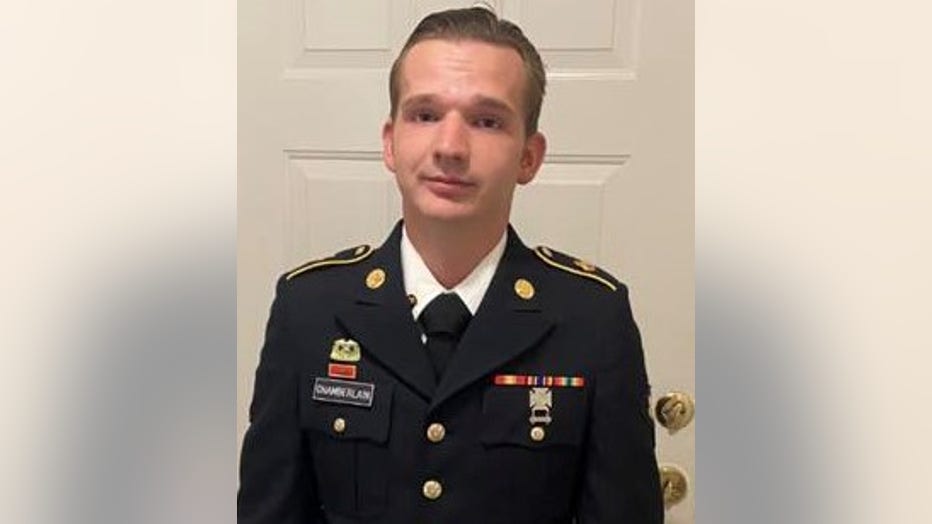 Spc. Craig Chamberlain has not been seen or heard from  (Fort Cavazos)
MORE FORT CAVAZOS NEWS
"We came to Killeen to start searching for him. We've tried calling his phone. We've tried texting him, and we received no response back," says his mother Virginia Chamberlain.
Virginia Chamberlain says they text weekly, and when he didn't respond to her the week he disappeared she says it was unlike him.
"Sometimes it'd be a couple of hours or maybe a day. And he texted me back. I love you, too, mom. If it usually went more than three days, I would tell him. You need to let mom know what's going on," says Chamberlain.
When Chamberlain's chain of command could not get a hold of him, Fort Cavazos issued an "Absence Status Unknown" (AUN) on the soldier. The army criminal investigation division has been investigating the whereabouts of the soldier.
Fort Cavazos released a statement to FOX 7 Austin on May 25, saying:
"Based on information discovered over the last several days, we now assess that Spc. Craig Chamberlain has willfully absented himself from the Army. Nevertheless, we continue to work with his unit, his family and friends in an extensive effort to locate him and ensure his safe return."
"There have been some leads to reported sightings of him after his disappearance, but they came up empty-handed," says Chamberlain.
According to Chamberlain's parents, the last person to have seen the soldier was his spouse.
"It is a very good possibility that our son didn't just walk away, not to get away from the army, but to get away from a bad relationship," says Gorden Chamberlain, the missing soldiers father.
They say the CID is aware of the situation and is looking into those factors. As of now, the parents are hoping to bring their son home safely.
"Law enforcement at the moment is waiting on tips, waiting on something new that they can go out, and they can investigate," says Chamberlain.
Anyone with information about Chamberlain's whereabouts is urged to contact Fort Cavazos CID at 254-287-2722 or their local law enforcement agency.