Fort Hood officially redesignated as Fort Cavazos
KILLEEN, Texas - Fort Hood has been officially redesignated as Fort Cavazos at a ceremony at the III Armored Corps Headquarters. The designation honors Texas-born Gen. Richard Edward Cavazos.
The name change officially happened Tuesday morning with the flag for Fort Hood wrapped in a case and the new flag for Fort Cavazos revealed. 
The re-designation ceremony took place in front of III Corps headquarters and was led by current Commanding General Sean Bernabe.
"There is no better namesake for our installation, than Richard E Cavazos. Let his name and all that it represents inspire us all every single day to live up to his legacy, as a warrior, as a soldier's soldier, as a master trainer, as a military innovator, as a coach and mentor, and as a humble servant leader," said Bernabe.
A military salute by an Army artillery unit echoed across the post. The cannons also signaled an even louder message of change. 
The decision to rename Ft Hood was set in motion by Congress. Fort Hood was originally a camp and named back in 1942 for Confederate Gen. John Bell Hood. 
The military post is one of nine U.S. Army installations being redesignated based on the Naming Commission's recommendations to remove the names, symbols, displays, monuments, and paraphernalia that honor or commemorate the Confederate States of America. Changing the names of all nine reportedly is costing more than $30 million.
"It was legislation that recognized that all of these installations have to reflect the values we have as a country, and those of the Army, and I couldn't be prouder of General Cavazos' contributions, he is an exemplary of what I said earlier, of what makes the Army great," said Gabe Camarillo, undersecretary of the Army.
Several members of the General's family attended the ceremony, including his grandson who was flown back to Texas from his Army assignment in Germany. They declined to speak during and after the ceremony, but some of them lead the count-down to the reveal of the new welcome signs at the post entrances.
Fort Cavazos will remain "The Great Place." The new name, according to ret. Lt Gen Randolph House, who served with Cavazos, represents what his former boss believed in: intense training endures.
"And when he talked about taking care of soldiers, he did not mean coddling them. He meant training them to standards, he believed in tough love. He opposed wasting soldiers training opportunities with fringe opportunities. He would often say poor training resulted in missions not being accomplished and soldiers dying who shouldn't have died," said House.
An old Army motto that House shared during the ceremony seemed to be the appropriate order for the day: "No mission too difficult. No sacrifice too great. Duty first and meet on the high ground."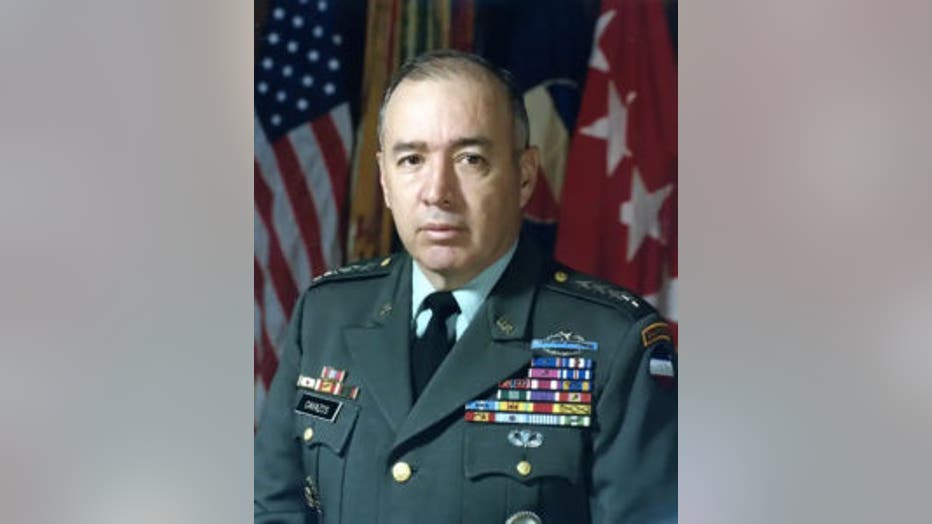 Gen. Richard Edward Cavazos (US Army)
Cavazos was born on Jan. 31, 1929, in Kingsville, Texas, to Mexican American parents, Lauro and Thomasa Quintanilla Cavazos. His father was a World War I veteran who later became a ranch foreman of the King Ranch's Santa Gertrudis division.
In 1951, Cavazos was commissioned into the Army and completed basic officer training at Fort Benning, Georgia. He began his military career deployed to Korea where he was the platoon leader of E Company, 2nd Battalion, 65th Infantry Regiment. The unit, known as the Boringueneers, was primarily made up of soldiers from Puerto Rico, many of whom only spoke Spanish. As a result of his service and actions in Korea, Cavazos was awarded the Silver Star and a Distinguished Service Cross.
In 1953, Cavazos rotated back to the United States and was assigned to Fort Hood. Reaching the rank of lieutenant colonel, Cavazos deployed to Vietnam in 1967 where he commanded the 1st Battalion, 18th Infantry Regiment. Cavazos was awarded his second Distinguished Service Cross for his service and leadership during his time in Vietnam.
In 1976, Cavazos became the first Hispanic to reach the rank of brigadier general in the U.S. Army. In 1980, now a lieutenant general, Cavazos served as the III Corps Commanding General.
In 1982, Cavazos was promoted to become the first Hispanic four-star general and succeeded Gen. Robert Shoemaker as commanding general of U.S. Army Forces Command.
Cavazos retired from the Army in 1984 after 33 years of service.
During his 33 years of retirement, Cavazos lived in San Antonio and was credited with mentoring many Army commanders. He died Oct. 29, 2017, and is buried at Fort Sam Houston National Cemetery.