3 families displaced following fire in South Austin
AUSTIN, Texas - Three families are displaced following a fire that destroyed one home and damaged another in South Austin.
"I was just driving by, and I saw the fire, so I diverted a block or so and I saw that the house in front was on fire and firefighters were there trying to put it out," says neighbor Kim Klataske
Austin Fire said on Sept. 26, around 11 a.m., crews were called to a home in the 500 block of Fort Drum Drive near S Congress and Stassney.
"The fire started in the garage of the first residence," says City of Austin Operations Public Information Officer Rachael Lewis.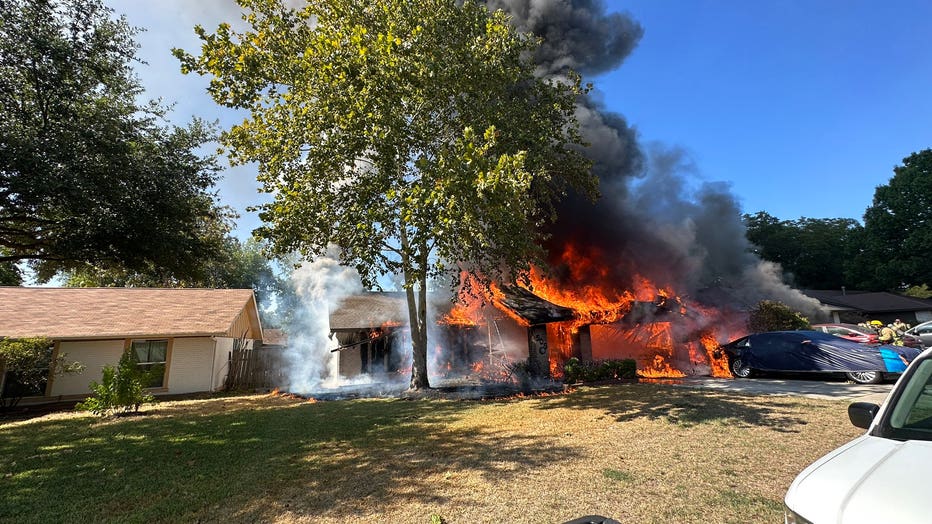 Firefighters responding to a structure fire on Fort Drum Drive in South Austin. (Austin Fire Department)
AFD said the fire started in the garage before spreading to the rest of the house as well as the home next door.
Neighbors say the saw flames shooting through the roof and the fire begin to spread and engulf a second home.
"It goes really fast," says Kim Klataske.
Kim Klataske says she and another neighbor started searching for a water hose to stop the fire from reaching other homes in the neighborhood.
"I noticed that the neighbor to the right their hose was not being used, so I grab that one and I start spraying their roof and tried to keep that from catching on fire," says Klataske.
According to AFD, one person had minor injuries.
"Each home was evacuated prior to any injuries or fire happening we have three families currently displaced," says City of Austin Operations Public Information Officer Rachael Lewis.
"It's heartbreaking even if everything doesn't burn, just the fire hose, you know everything getting wet, but I mean it looks like it's pretty bad, my heart goes out to them," says Klataske.
FOX 7 Austin reporter Tan Radford spoke to the fire victims off camera who said they were grateful for the help from their neighbors.
"It's a really helpful neighborhood, and you know it's nice to know that you can trust your neighbors," says Klataske.