Houston attorney Tony Buzbee confirms he's representing Texas AG Ken Paxton in impeachment trial
HOUSTON - Houston-based attorney Tony Buzbee has confirmed to FOX 26 that he has been retained to represent Ken Paxton in his upcoming impeachment trial. 
In an e-mail to FOX 26, Buzbee said, "I am the General's lead lawyer. Of course, we will have others who will take meaningful and important roles."
This comes after an Instagram post was made on Friday night saying he was representing Paxton, but the post was removed just an hour later.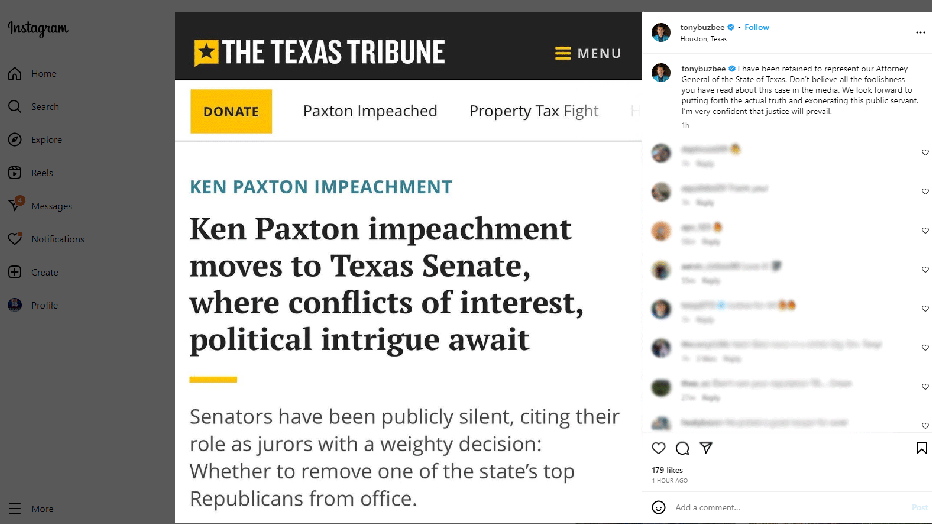 Screenshot taken prior to post being removed from Buzbee's Instagram an hour later.
In the post, Buzbee said, "Don't believe all the foolishness you have read about this case in the media. We look forward to putting forth the actual truth and exonerating this public servant. I'm very confident that justice will prevail."
PREVIOUS COVERAGE: Texas AG Ken Paxton speaks on impeachment efforts, calls it 'deceitful impeachment attempt'
Buzbee said on his Instagram Tuesday that there would be a press conference tomorrow (Wednesday) at 2 p.m. in Austin, "regarding the fatally flawed impeachment of Attorney General Ken Paxton. I will provide further details at that time, which will include our hopes that the process in the Senate will be fair, reasoned and transparent."
PREVIOUS COVERAGE: Texas lawmakers issue 20 articles of impeachment against state Attorney General Ken Paxton
This comes after two other Houston-based attorneys, Rusty Hardin and Dick DeGuerin, announced last week they would be prosecuting the case against Paxton. 
The 20 count indictment was handed down late last week against Paxton alleging including bribery, unfitness for office and abuse of public trust. 
The trial is set to begin no later than August 28. 
DOWNLOAD THE FOX 26 HOUSTON APP BY CLICKING HERE
If Paxton is impeached, he would be forced to leave office immediately.