Iowa teen farms an acre of land to fill food banks with fresh veggies
For Iowa teenager Lauren Schroeder, growing up on a farm means rarely having a meal without a fresh vegetable on her plate.
When Schroeder, 17, was volunteering at a local food bank three years ago, she couldn't help but notice the grocery bags being filled for those in need were without fresh produce. Schroeder decided she wanted to help.
"I saw exactly what went into the packages," she recalled. "So that got me thinking, like, 'What can I do? Because there was no produce in there at all."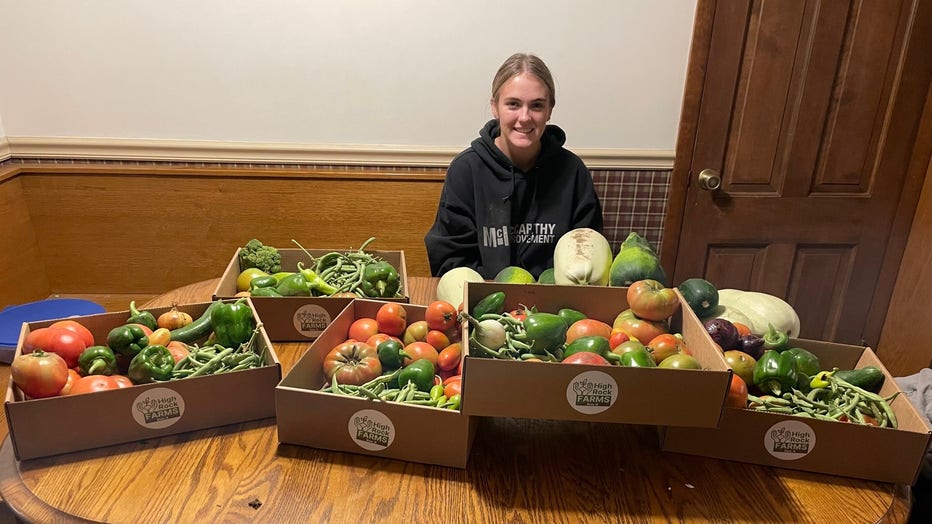 Lauren Schroeder with her produce haul (Katie Schroeder)
Schroeder asked her parents if she could use a portion of her family's 150 acre-farm in Dixon, Iowa, to grow produce for the community. They had some logistics to figure out first, but they were ultimately on board.
The high school junior has raised livestock like pigs, sheep and rabbits for 4-H Club, but when it came to farming veggies, she knew she had her work cut out for her.
READ MORE: High school student digs up 34-million-year-old whale skull on family farm
"It was different than I expected because I have never done anything like this," Schroeder said. "I've always helped my mom with our small garden that we have at home, so it was just a much larger scale.
"I first had to learn about the tillage of all the land to make sure that everything would go into the ground easier," she continued. "Then I had to learn about the different produce that would go in there, and how I would grow things and the watering."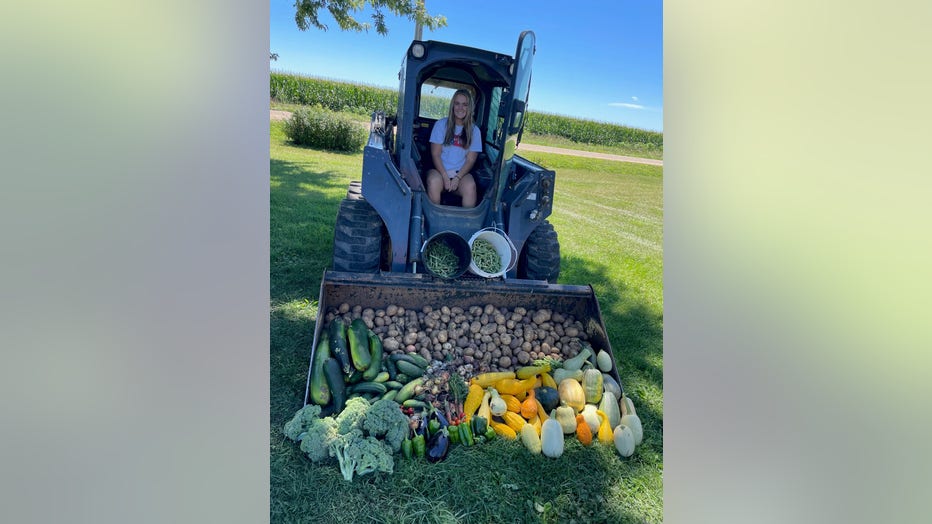 Lauren Schroeder on the farm (Katie Schroeder)
With the help of her siblings, parents and a grant from the National FFA Organization, Schroeder farmed a half-acre her first year and kept it simple with just a few vegetables, like tomatoes, green beans, peas and lettuce.
Five community organizations benefited from her first year's harvest.  
"I was like, OK, this is much easier than I thought it would be just because all the vegetables grew really well," Schroeder said. "So I wanted to keep adding more things."
In her second year, Schroeder expanded the farm to a full acre and added more than a dozen new crops, including herbs, white pumpkins, broccoli and sweet potatoes.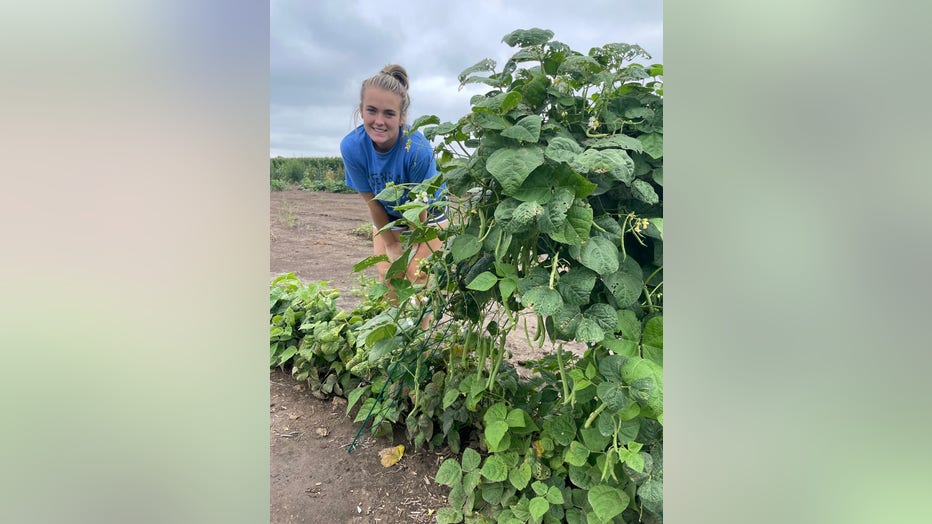 Lauren on the farm (Katie Schroeder)
This year, she's helped nine nonprofits with fresh food. In all, she's grown 7,000 pounds of produce to give away – worth roughly $15,000 – and spent about 1,000 hours growing the crops. 
Her goal for next year is to expand the farm to two acres and donate to 12 organizations. And though she doesn't plan to make a career out of farming, she says she'll continue to grow produce for organizations and donate her time.
Schroeder's philanthropy has inspired others in her community to step up, she said. Once word spread about her efforts, she received donated seeds and other offers for help.
"The community has really helped me. They've given me support, they've seen what I've done," she said."I'm so thankful for everyone, especially my [agriculture] teacher, Ms. Jenna Kingsley. She's the one who helped me with the grants … and with exploring different options and helping me be the big person I am today, as well as my mom. She's mainly helped me too throughout this whole thing."