Austin ISD band director returns to NYC for 2023 Macy's Thanksgiving Day Parade
AUSTIN, Texas - Austin ISD band director Ryan Dufrene is returning to the Big Apple to perform at the Macy's Thanksgiving Parade. He says he hopes his performance will encourage students to pursue a career in music.
It's not every day you hear your elementary school band director is heading out to New York for the Macy's Thanksgiving Day Parade.
"I don't think they necessarily care so much that I'm marching in a parade. They just care that I'm on TV. So, I think they're really excited to see me on TV," Dufrene told FOX 7 Austin.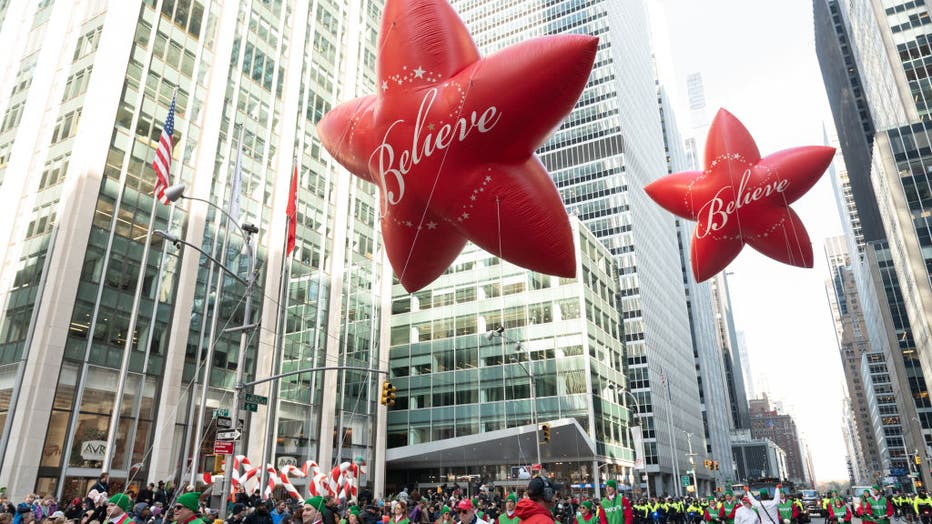 People hold the Macy's 'Believe' balloons at the 2022 Macy's Thanksgiving Day Parade on November 24, 2022 in New York City. (Photo by Noam Galai/Getty Images)
This isn't the first time Dufrene has been a part of the Macy's Thanksgiving Day Parade; he marched in New York City 18 years ago as part of the Pride of Acadiana marching band from the University of Louisiana at Lafayette.
"That was a challenging year for the state of Louisiana following hurricanes Katrina and Rita. Um, so it was it was pretty special for us to represent Louisiana in a positive light following a couple of pretty major tragedies," said Dufrene.
This time around, Dufrene will be performing alongside other band directors.
"It'll just be great for us as band directors, as a community to kind of showcase what we do and maybe bring some attention to the arts in schools and the importance of it," said Dufrene.
Over 400 band directors from all over the country have been invited to take part in this tradition.
"We'll be marching at the New Jersey national guard armory as well, where we'll be practicing because it's a big band. And so, we need a large space to be able to have marching practices. And large spaces are hard to come by in Manhattan," says Dufrene.
Dufrene says being a part of the Saluting America's band directors has helped him create connections with other band directors.
"We want to put our profession out for everyone to see and hopefully influence students and get them to where they want to stay in band, maybe go in a career in music, or at the very least just be advocates for the arts in schools," says Dufrene.
The band will be directed by nationally known music educator and innovative band director Jon Waters and is sponsored by the Michael D. Sewell Memorial Foundation based in Ohio.