Lake Travis scuba diver recovers woman's wedding ring, inherited family rings
AUSTIN, Texas - On a typical weekend, you can find Rachel Bolton and her family enjoying a day out on Lake Travis. But this past weekend's boat trip ended in panic.
"Someone mistook a cooler bag for a dry bag and thought they should dump the ice out, so it just got dumped over the edge," said Bolton.
"It" was her husband's wallet, but inside the wallet there were more than just credit cards. Bolton had tucked in three rings, her wedding ring along with two that were inherited from her grandmother and aunt.
Her wedding ring also features her mother's old diamond. 
"My heart sank," said Bolton. "These rings always live in a safe, but we recently had a family wedding, so they came out. These are inherited rings, and some diamonds are over 60 years old and they've been in our family for a long time." 
Right away, she called Lance Looper, the general manager at Riviera Marina.
"I immediately called Robert and he happened to be in Cypress Creek Cove over here," said Looper. "The water is going down so if you wait, that mark that we gave Robert would've been different in a week or two." 
Robert Weiss, owner of Lake Travis Scuba, was able to find the wallet, with the rings still inside, within minutes. 
Bolton was thrilled. 
"So relieved that I didn't have to call my entire family and tell them that story," she said.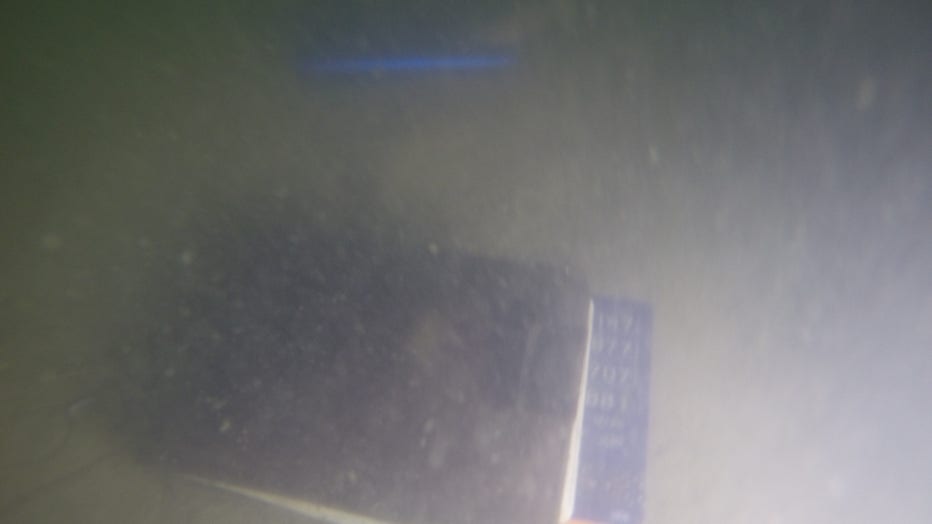 Robert Weiss, owner of Lake Travis Scuba, was able to find the wallet, with the rings still inside, within minutes. 
In his decades of diving, Weiss has found all kinds of items ranging from class rings to a prosthetic leg. But he said this one was pretty memorable. 
"It's fun to be able to return people's cell phones and things like that, but to be able to return an object like that, a personal item with that much sentimental value…that's much cooler," said Weiss. "You make your day as much as it makes the recipient's day." 
Bolton said that actually wasn't the first time her wedding ring diamond has been lost. Years ago, before she was gifted it, it had popped off her mom's finger and had gone missing for a decade. Bolton found the diamond in a box heading to Goodwill. Later, her now-husband used it to design her wedding ring.
For those going out on the lake this summer, Weiss recommends leaving anything valuable behind. For items that are brought on a boat, he said to put them in a dry bag and attach a floatation device. If something is lost, Weiss said to take a photo of where it happened and drop a pin to mark the location. 
Weiss said in 2021, Lake Travis Scuba recovered an estimated $220,000 worth of items. To see a list of items recovered so far this year, click here.