Group saved from snowy trail thanks to rescuer's six-wheel drive Pinzgauer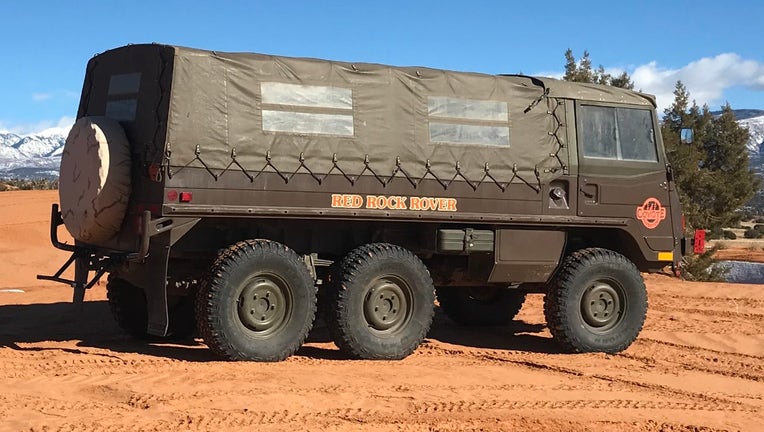 article
A group of Arizona residents and their dog have a search and rescue worker's personal six-wheel drive military utility vehicle to thank for rescuing them from a snowy Utah trail.
According to the Grand County Sheriff's Office in Moab, Utah, the group accessed the Thompson Canyon/Polar Mesa trail at about 4,300 feet up while it was raining and snowing. Their vehicles got stuck in the mud as they tried to get up the trail.
The sheriff's office said one of the men called his wife in Arizona and asked her to call for help, but the group still continued up the trail by "winching the lead vehicle forward, with the other vehicles following in its path."
"They eventually got stuck in three feet of deep snow … and were unable to move," the sheriff's office said.
READ MORE: Bullfrogs for dinner? Utah wildlife officials want you to catch – and eat – this invasive species
As search and rescue crews set up on both ends of the trail to start the rescue mission, one of the rescuers offered to use his personal vehicle –  a six-wheel-drive Pinzgauer all-terrain military utility vehicle – instead.
He was able to reach the group at 8,500 feet up "after pushing through over a foot of sloppy mud for many miles." Snow levels had dropped to about 6,000 feet.
The rescue took nearly eight hours, but it would have taken much longer without the military utility vehicle because crews would have had to use smaller all-terrain vehicles.
In a post on the Grand County Sheriff's Office Facebook page, one of the Arizona travelers maintained that the group wasn't actually stuck.
"We were advised to not proceed further ahead because conditions were considered 'impassable,' the commenter said. "We could have proceeded further. We had food, water, fuel."
READ MORE: Teen dies after falling 30 feet on Moab Rim Trail
The sheriff's office offered the following tips for traveling on high-altitude trails in winter in early spring:
Thoroughly research your planned trail. Do not rely solely on social media or online maps that may not show seasonal road closures.
Inquire locally about road conditions.
Consider the current and forecast weather in your decisions.
Always carry survival gear.