Watch this baby penguin take its first swim at Chicago aquarium
CHICAGO - Shedd Aquarium's newest rockhopper penguin, hatched in June, recently took its first swim.
"After fledging fluffy feathers for sleek, waterproof ones, the chick was ready for its first swim," the aquarium said in a press release last week. "Once successfully testing the water behind the scenes in smaller habitats, the chick had its first swim with the full colony in the public-facing exhibit in Polar Play Zone." 
In a video, published by Shedd Aquarium, you can see the bird testing out the waters with the zookeeper by its side. 
The aquarium said the chick has also been curious about its new surroundings and has been exploring enrichment activities the animal care team offers. This involves any activity that provides physical or mental stimulation for the penguins, including the offering of bubbles, dangling objects that can be pulled with a beak, or giving items to be picked up and moved around.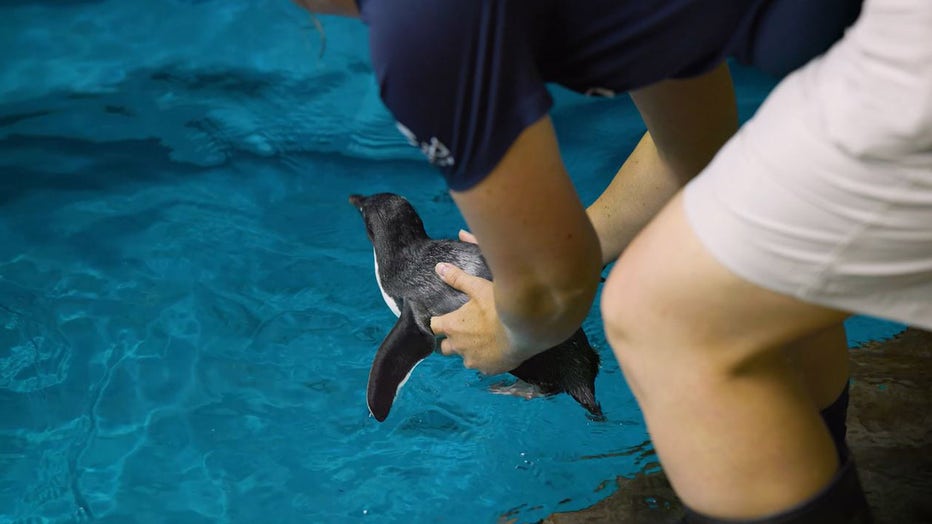 The rockhopper penguin takes its first swim. (Credit: Shedd Aquarium/Sam Cejtin)
The newest arrival has grown to 1.5 feet tall and weighs a little over 4 pounds. The only noticeable difference between the chick and an adult rockhopper is its lack of yellow feathers. Currently, the chick only has yellow eyebrow feathers, while the longer yellow crested feathers will grow when the bird is around one-year-old.
RELATED: Biggest penguin in history was 'monster bird,' weighed over 300 pounds
The next milestone will be determining the sex of the chick, at which time the aquarium will share any potential naming plans for the bird.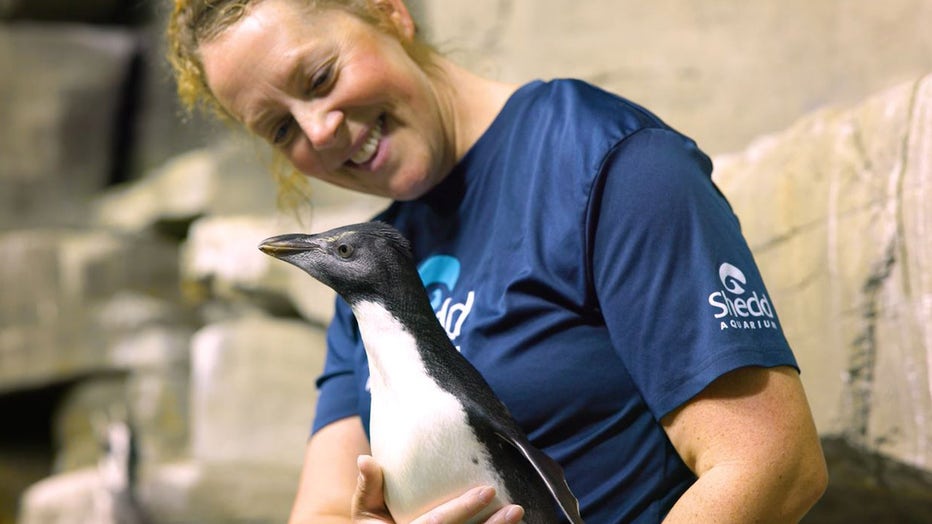 The penguin currently weighs a little over 4 pounds. (Credit: Shedd Aquarium/Sam Cejtin)
Guests can plan a visit to the aquarium to see the rockhopper chick and the rest of the penguin colony.
This story was reported from Los Angeles.