White bike gifted to family of bicyclist killed by falling construction debris in West Campus
AUSTIN, Texas - In honor of Michael Delgado's death, the Austin Ghost Bike Project presented Michael Delgado's family with a white bike on April 26.
"I think it really suits Michael. I guess that's why he loves riding, and he was passionate about that," said Brittney Nova, Michael Delgado's wife. "And this is going to be like a good reminder of who he was."
Delgado was riding his bike and making deliveries in West Campus on March 2 when he was struck and killed by falling debris from a construction site.
To honor Delgado's memory the white bike is placed in the intersection of 24th Street and Rio Grande.
"He's truly missed by so many people," Nova said. "I think what's important is that we just continue to keep this memory of his name alive."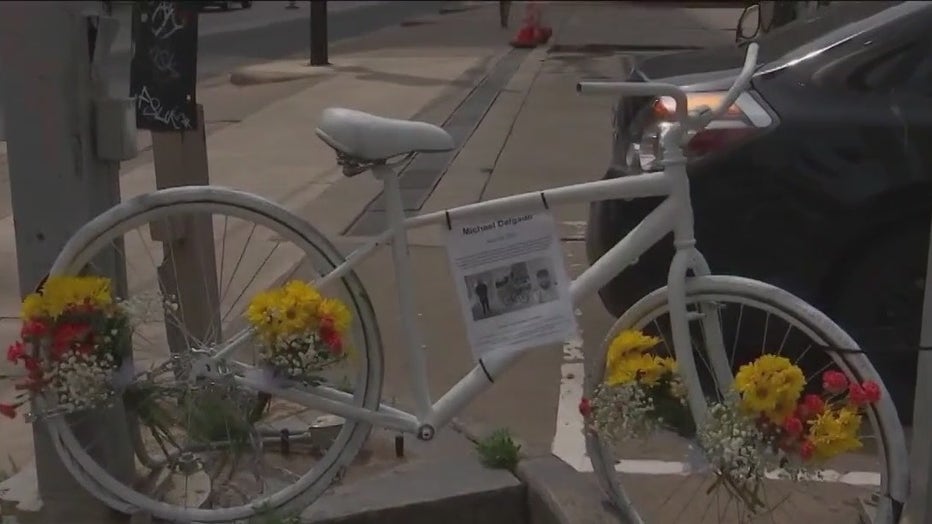 Michael Delgado was struck and killed by falling debris from a West Campus construction site while he was biking through the neighborhood.
Since the death of Delgado, UT student safety organization "Safe Horns" is asking for the city to inspect construction sites to prevent this tragedy from happening again.
"This area of West Campus has over a dozen construction sites currently…being developed," said Joell McNew, president of Safe Horns. "We also have more coming down the line, and it's very important to us to educate everyone on safety."
Students who pass by the busy area say they don't feel safe walking in West Campus when construction is going on.
COVERAGE AROUND CAMPUS
"I would like to see some operating hours for the construction sites," UT PhD student Benjamin Yipan said. "I mean, I know we want to get these things built. He needs to get housing easily. But, you know, maybe they have to stop at a certain hour of the day and night."
Safe Horns says to call 311 or 911 if you notice debris or an unsafe site.