FOX 7 Friday Football Game of the Week: Georgetown vs Cedar Park
CEDAR PARK, Texas - Week 11 of the Central Texas high school football season brings another FOX 7 Friday Football Game of the Week!
Every Thursday, FOX 7 Austin will feature one upcoming high school football game and offer you, the viewer, the chance to vote on who you think will win.
FOX 7 Austin is now on the FOX LOCAL app available through Apple TV, Amazon FireTV, Roku and Google Android TV!
This week's matchup is between two playoff-bound area heavyweights look to close the regular season on a win and enter the post-season with extra momentum. The Cedar Park Timberwolves are hosting the Georgetown Eagles at Gupton Stadium this Friday.
For Georgetown, there is still a slim chance that they could tie for the district title with a win. The Eagles though would also need an unlikely College Station loss to Hendrickson. 
Most importantly, the Eagles will look to regain the momentum they enjoyed before losing some steam over the last two weeks in a blowout loss to College Station and a shaky win over Glenn. 
After losing back-to-back district games to A&M Consolidated and College Station about a month ago, Cedar Park has reeled off three straight wins including last week's 49-7 blowout win over Leander. 
The T-Wolves can finish as high as third in district with a win and an A&M Consolidated loss to Glenn.  
RESULTS
Viewers backed Georgetown, but it was Cedar Park that triumphed at home.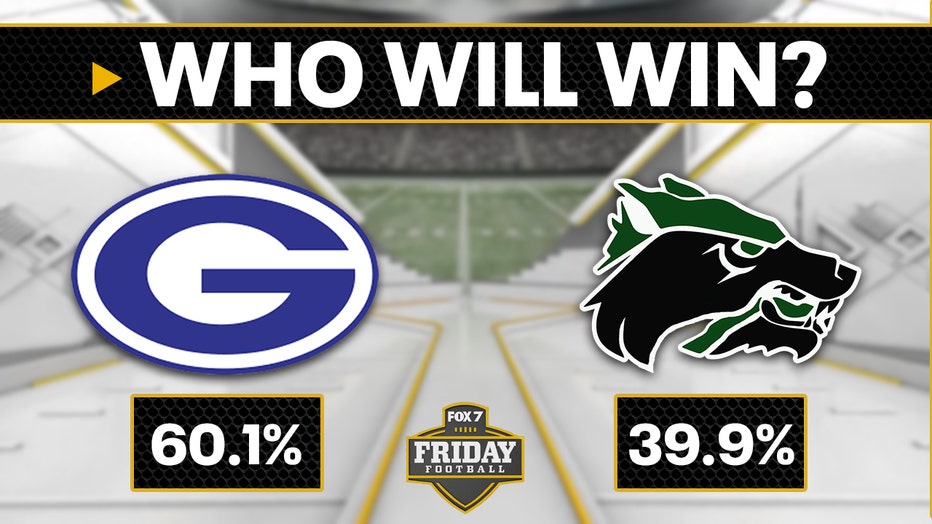 READ MORE: Cedar Park HS football announcer celebrates 25 years in the role
39.9% of voters chose the Timberwolves to win over the Eagles (60.1%).
Friday's win was extra special for Cedar Park, as Brad Cone marked 25 years as the announcer for Timberwolves football. Cone has been announcing games for Cedar Park since the school opened its doors in 1998.