NFL makes Virginia football players killed in school shooting honorary 2023 NFL Draft picks
Before the first selection of the 2023 NFL Draft, the league welcomed the three University of Virginia football players killed in a Nov. 13 shooting to the NFL family as honorary draft picks. 
D'Sean Perry, Lavel Davis Jr. and Devin Chandler lost their lives after former UVA football player Christopher Jones Jr. allegedly opened fire on a charter bus that had just returned to campus from a field trip to Washington, D.C.
D'Brickashaw Ferguson, a three-time Pro Bowl offensive tackle with the New York Jets who played at Virginia before being drafted in the first round of the 2006 NFL Draft, spoke about each player prior to commissioner Roger Goodell announcing the first picks of the draft. 
"To make it official, with the first picks in the 2023 NFL Draft, we welcome to the NFL family D'Sean Perry, Lavel Davis and Devin Chandler of the University of Virginia," Ferguson said. 
The families of each player were on stage to accept jerseys. 
Perry's family received a Miami Dolphins jersey since he grew up in Miami. Davis Jr. was from Dorchester, S.C., but his family received a Baltimore Ravens jersey. The family of Chandler, who was from Huntersville, North Carolina, received a Jacksonville Jaguars jersey.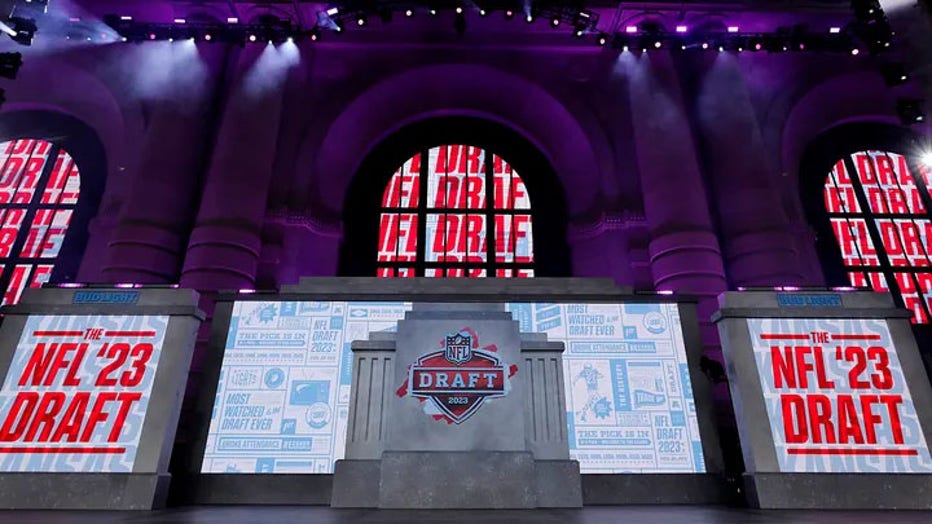 A detailed view of the first round of the 2023 NFL Draft at Union Station April 27, 2023, in Kansas City, Mo. (David Eulitt/Getty Images)
Chandler and Davis were wide receivers for the Cavaliers. Chandler played two seasons with the Wisconsin Badgers prior to transferring to Virginia for his junior season. He never got to play with Virginia last season. 
Davis played in eight games as a senior last season, hauling in 16 receptions for 371 yards with two touchdowns. 
Perry played three seasons with the Cavaliers as a linebacker, making nine tackles and registering one sack with a pick-six over eight games. 
After the shooting, the NFL was quick to honor the fallen players. The Washington Commanders added decals to their helmets with each player's number — 1, 15 and 41. 
Read updates to this story at FOXNews.com.