8 puppies abandoned inside garbage bag in near triple-digit heat in Austin
AUSTIN, Texas - Eight puppies were left abandoned inside a garbage bag in near triple-digit heat. The two-to-three-day old puppies were discovered in critical condition by a Good Samaritan before being turned over to Austin Pets Alive!.
Sanaz Mozafarian visited Austin Pets Alive! (APA!) to pick up three of those puppies to foster.
"They're so cute. I'm just really hoping to bring them home and give them some love and some warmth and help them to grow up," said Mozafarian.
RELATED COVERAGE
The puppies were discovered by a Good Samaritan who turned them over to the Austin Animal Center who in turn reached out to APA!
"We received a call that a Good Samaritan had brought in a litter of puppies that were found in a garbage bag right next to a dumpster. They probably saw them writhing around in the bag and did something, and that is huge," said Ellen Jefferson, President and CEO of Austin Pets Alive!
APA! veterinarians and medical experts spent Thursday working to save the eight puppies' lives. The puppies were in critical condition. They were all overheated and hypoglycemic after not being fed and under a lot of stress. 
Jefferson estimates the puppies were probably placed by the dumpster the same morning they were found.
"I know they would have died if they had been out there in the storm the other night or if they had been there, you know, longer than the day, so my guess is that they were probably placed by the trash that morning," said Jefferson.
Unfortunately, one puppy died, but the other seven are doing just fine.
"We're always wrong when we look at them at this age, but they look like little shepherd things. They've got that kind of longer fur and deep brown color that's beautiful," said Jefferson.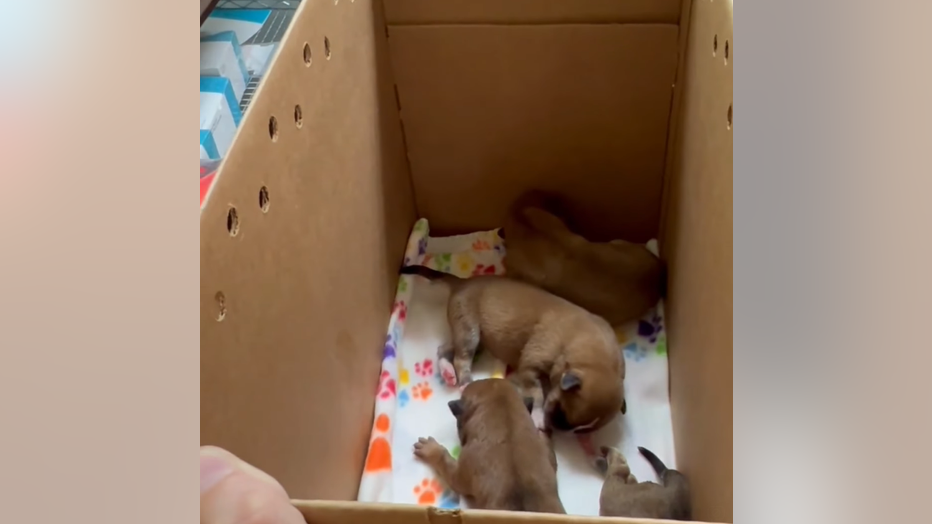 Eight puppies were found in a garbage bag next to a dumpster in Austin. Photo courtesy: Austin Pets Alive!
Now, APA! is looking for people to foster not just these puppies, but all the puppies and kittens they currently have at their facility.
"We know that our community really cares, and it's not just on the animal shelter to solve problems like this. We can connect the dots and help somebody who wants to help these little babies survive and go on to live wonderful lives. That's a win-win," said Jefferson.
To apply to foster an animal with APA!, click here. People can also donate directly on the APA! website or email donate@austinpetsalive.org. 
If you or someone else you know cannot care for puppies or kittens, Jefferson told FOX 7 Austin there are plenty of options. 
"I try to have empathy for the person that did that. They must have been in a really bad situation to feel like that was their only course of action, but it is heartbreaking, and it's just not acceptable. It's cruel to the animals and there are other options out there," she said.
She says people can go and sign up at the Emancipate Spay and Neuter Clinic to get their animals spayed. If the puppies or kittens are already born, people can contact 311 to receive a full list of city resources.