Allandale Halloween house: Austin homeowner celebrates spooky season in festive way
AUSTIN, Texas - Visitors from all around Central Texas stopped by the Allandale Halloween house in North Austin.
"It's pretty busy. I have lived in other parts of town, definitely get the most trick or treaters here," says neighbor Brad Sappington.
This Halloween display is known as the Allandale Halloween house. It's filled with years worth of thrifted and donated items.
"We always wanted to do something for the kids on the holidays and this one kind of grew and grew. First, we built a little spider then we grew from there into what you see here today," says homeowner Benjamin Sitton.
Homeowner Benjamin Sitton has been working on this year's display since last November, with the help of donations from the community.
"I love it, the community loves it. I have been getting donations of small toys and candy from the neighborhood," says Sitton.
He says this year, close to 500 visitors are expected to stop by, and the fun starts at 5 p.m. and ends at 10 p.m.
"I thought it would be better and maybe an easier flow to start at 5, especially on a school night and later in case we get some older trick or treaters," says Sitton.
"We see little kids in here all the time and really enjoying themselves. It feels like people sharing memories you know, so I think it's pretty cool," says Brad Sappington.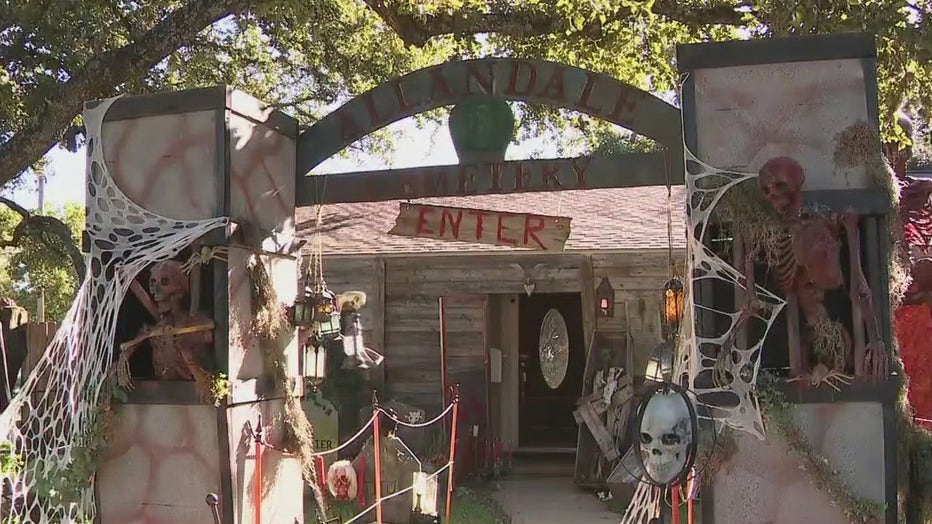 An Austin homeowner is celebrating Halloween in a festive way by turning his passion for spooky season into a front yard display for trick-or-treaters.
While the display is cool, so was the temperature. Brad Sappington says his family purchased costumes that would keep them warm.
"Mine is Ghostbusters, it's the full jumpsuit long handles, you will never notice underneath. My daughter's Harry Potter thing has a big, long robe and everything, so you won't see that underneath. Same thing with my wife, it's kind of a Barbie jumpsuit," said Sappington.
The Allan Dale Halloween House also gave out items outside of candy for those stopping by.
"We also have necklaces and some toys in case someone has an allergy or doesn't want candy tonight," said Sitton.
Neighbors say the Halloween display not only draws a lot of traffic to the area, but serves as a safe trick or treating option for the children in the neighborhood.
"We know this neighborhood really well. I know a lot of families around here, it is a very safe neighborhood to trick or treat," said Sappington.