John Travolta's 'Saturday Night Fever' suit hits the auction block: 'A piece of cinematic dreams'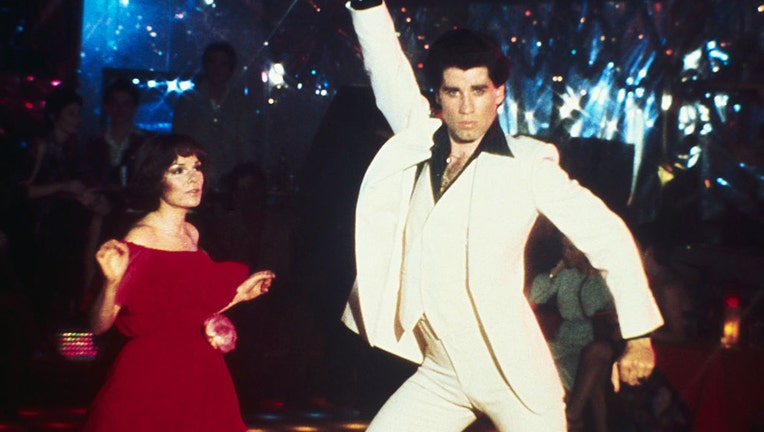 article
Movie buffs can now own a piece of Hollywood history.
John Travolta's iconic white suit from his 1977 film, "Saturday Night Fever," has hit the auction block.
The three-piece costume is part of the "Hollywood: Classic & Contemporary" sale organized by Julien's Auctions and Turner Classic Movies (TCM). It is expected to fetch up to $200,000. It's the same sale that's featuring the largest collection of wands from the "Harry Potter" film franchise.
A spokesperson for the actor, 69, had no comment for FOX Business.
JOHN TRAVOLTA SELLING MAINE HOME FOR $5M
"This white three-piece suit worn by John Travolta in his iconic role as Tony Manero in the blockbuster film 'Saturday Night Fever' defines disco and is truly a piece of cinematic dreams and one of the most prized pop culture artifacts ever to come to auction," Martin Nolan, executive director and founder of Julien's Auctions, told FOX Business.
"The customizations on this suit confirm Travolta wore this on screen and in publicity photos in the famed 'Saturday Night Fever' movie as he burned up the dance floor on screens all over the world," Nolan said. "The estimate is $100,000 to $200,000, but we expect it to more than double because of its significance."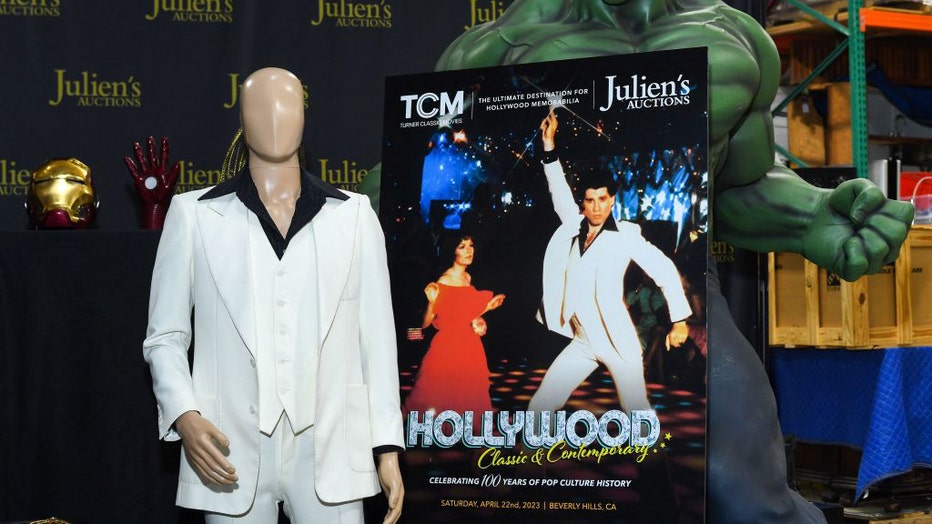 The custom-made white suit worn by John Travolta in "Saturday Night Fever" and an original Hulk figure from the premiere of "The Incredible Hulk" are displayed at Juliens Auctions in Gardena, California, on April 3, 2023. (Photo by VALERIE MACON/AFP
Julien's Auctions noted that the polyester piece is the highlight of this year's sale, which is taking place between April 22 and April 23 both in California and online.
"In a star-making turn at the young age of 23, Travolta transforms his character's street swagger and self-assuredness, seemingly meritless at first view, into the stuff of legend each time he struts onto the dance floor and showcases his natural dancing ability," reads the auction listing for the suit.
"Considered one of the most iconic costumes in the history of cinema, this suit is one of only two known to exist used during production, including in the film's memorable dance sequences," it continued. "This specific 'Saturday Night Fever' suit has never been exhibited, nor auctioned."
The film famously featured Travolta hitting the dance floor to "More Than A Woman" by the Bee Gees alongside co-star Karen Lynn Gorney. The performance earned the star an Oscar nomination in 1978. However, he lost to Richard Dreyfuss for his role in "The Goodbye Girl."
So far, the garment has three bids and has reached $100,000. The starting bid was $25,000.
In 2018, Travolta wore a white suit jacket that mimicked the classic outfit for his appearance at Lenny's Pizza in Bensonhurst, Brooklyn. The establishment was made famous by his character, who ordered two slices from the eatery and ate them together as he strutted down the street.
The eatery closed in February after more than 70 years of operating.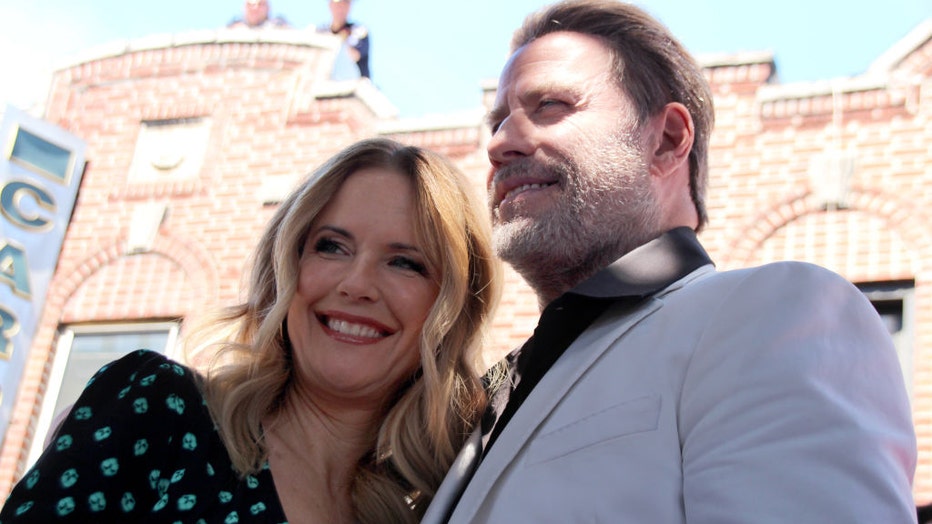 John Travolta and his wife, actress Kelly Preston, celebrate in front of the food stall "Lenny's Pizza" on 86th Street in Bensonhurst with colleagues and numerous fans on June 12, 2018. (Photo by Christina Horsten/picture alliance via Getty Images)
Other key items from the auction include an original steel machete used by Harrison Ford in 1984's "Indiana Jones and the Temple of Doom" ($100,000-$200,000) and a collection of 25 original contact sheets from 1960's "Let's Make Love," which includes personal edits made by Marilyn Monroe ($1,000-$2,000 each). The contact sheets feature never-before-seen images of the actress.
There is also the original Warren Beatty canary-yellow trench coat and felted fur fedora hat from 1990's "Dick Tracy," as well as other sought-after pieces from the "Star Wars" film franchise.
Classic movie fans will also get a chance to snag some rare memorabilia. The auction house noted that Charlie Chaplin's bamboo cane, Theda Bara's original coronation headdress from 1917's "Cleopatra," an original Elizabeth Taylor bodysuit and a book signed by Judy Garland are among the numerous items that are part of the sale.