Latest body found in Lady Bird Lake renews safety concerns
AUSTIN, Texas - After another body was found in Lady Bird Lake this weekend, there are renewed concerns about the repeated occurrence. 
Police say 33-year-old Jonathan Honey was found Saturday afternoon and was reported missing the day before. The cause of his death is still under investigation. 
APD released a statement on April 3 saying they are aware of "speculation regarding the recent drownings in Lady Bird Lake.
"Although these cases are still under investigation and evidence is being analyzed, at this time, there is no evidence in any of these cases to support allegations of foul play," the statement said.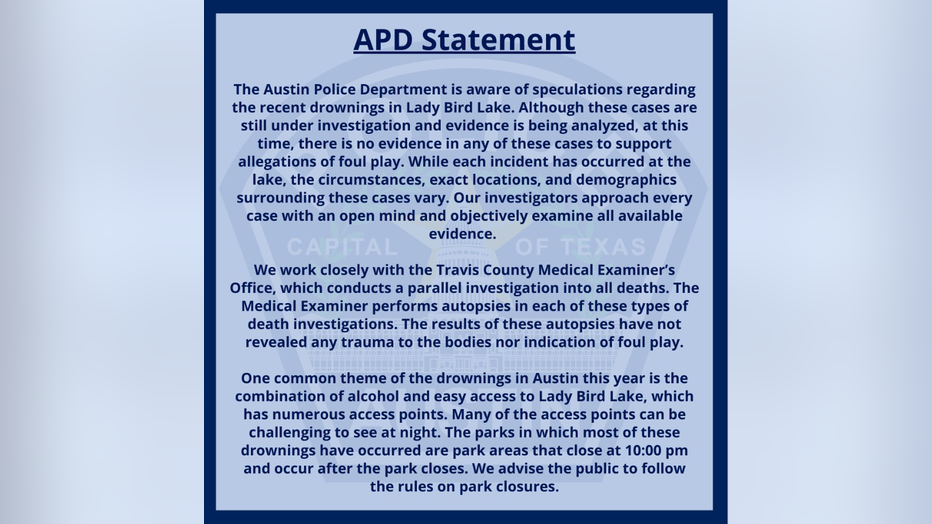 The Austin Police Department released a statement following the recent deaths at Lady Bird Lake.
Jason John's body was found in the lake in February. His mother, Elsie John, says hearing about another victim is like the trauma happening all over again. 
"We were in disbelief. I felt like watching a scary movie or a horror movie. That is how I felt, I felt at the moment. As soon as I heard the news, I saw myself walking on the trail. I felt I experienced in my body that I actually I started shaking when I heard it first, and then I felt that I am walking down Rainey Street. I am walking down the lake and walking down on the trails, because we had the most painful days," she said.
Multiple bodies have been found in the lake in recent years. There have been at least two other cases that happened in similar fashion connected to the Rainey Street and downtown entertainment area, including Martin Gutierrez in 2018 and Julio Santos in 2015. Christian Pugh was found alive after disappearing following a night on Rainey Street in 2019.  
"This is odd, not only the fact that there would be so many accidents in the same area that previously had none, but also the fact that no one noticed," Jennifer Brazer, who lives nearby, said.
READ MORE
District 9 Council Member Zo Qadri, who represents the area, says there have been temporary lights and fencing put up as a more permanent solution is in the works. 
"I've already been speaking with the mayor and other folks here, I think we need to just go back and kind of huddle again and see what we can do and kind of get to the bottom of this, why does this continue to happen," he said.
In a Public Safety Committee meeting in February, he assured families that work is being done to get cameras installed. 
"There should be lights, there should be cameras, there should be blue lights where you can push for help," Elsie said.
"I don't think enough has been done. I think when this happened to Martin Gutierrez back in 2018, Mitchell [Guiterrez, his brother] really advocated for lights and cameras and nothing was done about it. And now it's been four or five years later. And they're saying that, 'oh, we need time to do a permanent infrastructure.' They had that time. They had that time when Mitchell advocated for those cameras and lights and nothing was done," Nisha Parakadavil, John's friend, said. 
John's death was ruled accidental, but his mother doesn't agree with that. She says she will continue fighting for others to make sure this doesn't happen again.
"Every person who goes into Lady Bird Lake, you cannot just say it's accidental drowning. There is something behind. It's very clear. You don't need to be an APD or an FBI to figure this out based on all these criteria, the age of the men missing, the timing and the place, you know, it's just common sense, you know, so it's time for the city to wake up. It's time for the city to do something," she said.
Anyone with any information should contact the Austin Police Department at 512-974-TIPS.  You may submit your tip anonymously through the Capital Area Crime Stoppers Program by visiting austincrimestoppers.org or by calling 512-472-8477.