Lago Vista flies new city flag designed, chosen by residents
LAGO VISTA, Texas - The city of Lago Vista is flying a new flag, designed and chosen by residents.
The new flag, designed by Thomas Panevino and Mason Griffin, was selected through an online survey last year.
Panevino and Griffin moved to Lago Vista after getting married, and noticed the city didn't have a city flag.
"Mason and I lived in downtown Austin for quite some time. After we married in early 2022, we decided we wanted to set down roots in the central Texas area," Panevino told FOX 7 Austin. "Lago Vista quickly became a clear standout. The city is surrounded by natural beauty with rolling hills and wildlife abound."
The pair decided to take inspiration from that natural beauty, created several designs and presented them to Mayor Edward Tidwell, who decided to create a contest for an official flag design.
"Our flag design was inspired by the beautiful natural surroundings of Lago Vista. The lakeside city is nestled amongst the Texas Hill Country and the Colorado River – we sought to capture these facets of the city within our flag design," said Panevino. "Our flag design features a rising sun over the rolling hills with Lago Vista's city logo incorporated in the center."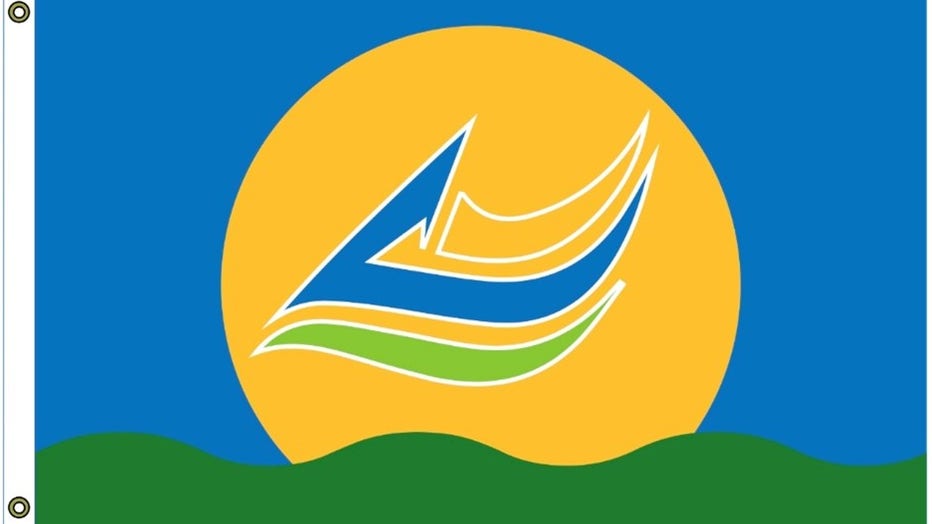 Nearly 2,300 residents voted in the online survey, selecting Panevino and Griffin's design by 41.4% of the vote, says the city. Schuyler Burke's design won second place with 32.9% of the vote.
"We are extremely thankful and humbled by our fellow neighbors, and we hope that our new flag serves as a symbol of unity and strength for our beautiful city," Panevino said. "As new people continue to move into our city, we hope they feel welcomed by this flag."
In November, the City Council unanimously approved Resolution No. 22-1961 to adopt Panevino and Griffin's design to be the flag of the City of Lago Vista.
The flags were officially raised on Thursday, Jan. 26 and currently fly at four locations in Lago Vista. (Thomas Panevino)
The flags were officially raised on Thursday, Jan. 26 and currently fly at four locations: 
Lohman Ford & FM 1431 entrance to Lago Vista
Veteran's Park on Dawn Drive
Police Headquarters on 5901 Municipal Complex Way
Lago Vista Public Library at 5803 Thunderbird, Suite 40
There is also a flag on display in the City Council Chambers alongside the US and the state of Texas flags, says the city. Panevino says there are additional sites planned in the coming weeks.