How to keep your kids safe on the road while going to school
GEORGETOWN, Texas - The new school year is starting across Central Texas, which means students will be traveling to and from school in cars, on buses, on bikes and even on foot.
The Georgetown Police Department and other safety and law enforcement organizations are sharing tips and information to help keep students safe while traveling to, from and around campus this year.
School bus safety
With the return of school comes the return of school buses on Central Texas roads. The area 10 feet around a school bus is the most dangerous for children, says GPD.
The Texas Department of Transportation (TxDOT) says in 2022, seven people were killed and 51 seriously injured in the 2,305 crashes involving a Texas school bus, and driver inattention and speed were top factors in those crashes.
The National Safety Council says most of the children killed in bus-related incidents are between 4 and 7 years old and on foot, and are usually hit by the bus or by a motorist illegally passing a stopped bus.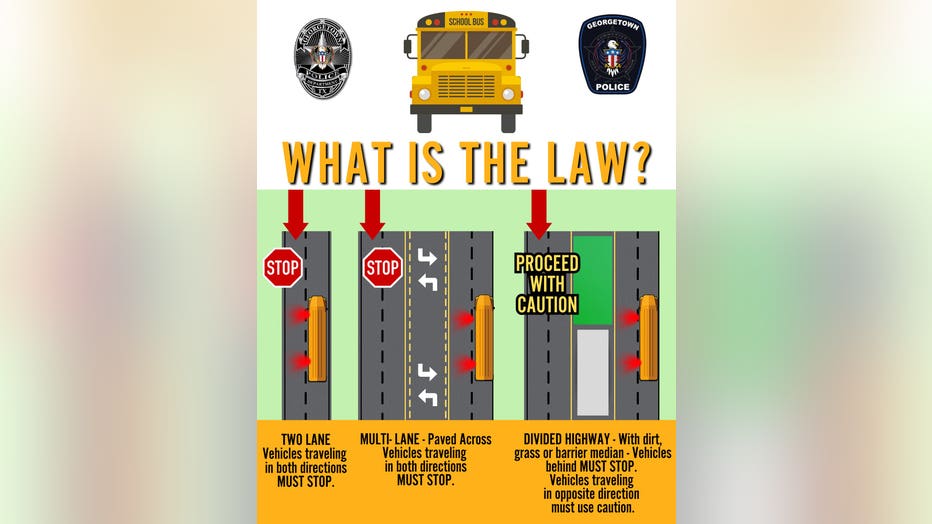 (Georgetown Police Department)
When do I stop for a bus?
Under Texas law, it is illegal to pass a stopped school bus. 
According to TxDOT, violations can lead to a fine of up to $1,250 for a first offense. If convicted more than once, drivers can face having their license suspended for up to six months or even criminal charges if they cause someone serious bodily injury, says Texas DPS.
If you are traveling on a two-lane road and a school bus stops, all vehicles traveling in both directions must stop.
If you are traveling on a multi-lane road divided only by a turn lane and a school bus stops, again, all vehicles traveling in both directions must stop.
If you are traveling on a divided highway with a physical barrier median, vehicles traveling behind the bus must stop, but vehicles traveling in the opposite direction on the other side of the median can proceed with caution.
Drivers can only proceed if the bus's flashing lights are no longer activated, the bus driver signals you to proceed or the bus has resumed driving.
Drivers should also:
Follow at a greater safe distance (at least three car lengths) behind a school bus, keeping in mind buses make frequent stops
Stay alert for children around buses and remember that they may not always look for vehicles before crossing the street
Stop far enough away to allow students space to safely enter and exit the bus
Be careful around railroad crossings as school buses are legally required to stop at them
Students also have a role to play in school bus safety, says TxDOT.
Students should:
Stand as far back from the curb as possible while waiting for a bus
Wait until the bus has come to a complete stop and watch for the driver to signal that it's safe to board
Listen to the bus driver and sit still to avoid distracting the driver
When exiting the bus, cross only in front of the bus, never behind it. Make eye contact with the driver and wait for the driver's signal that it's safe to cross the street
EDUCATION NEWS
As summer is coming to a close, law enforcement is also reminding drivers of the rules of the road when it comes to school zones.
Drivers should:
Slow down and drive extra cautiously
Stop and yield to pedestrians crossing the crosswalk or intersection when flashers are blinking
Be prepared for kids to appear in unexpected places, such as from between parked cars
Be prepared for kids on bikes to turn in front of you without looking or signaling
Watch for kids walking and crossing the street while looking at their phones or being distracted
Follow the directions of school crossing guards
Drivers should NOT:
Load or unload children across the street from the school
Double park as it blocks visibility for other children and vehicles
Use your cell phone; pull over somewhere safe if you need to use it
Block crosswalks as it forces pedestrians to walk around you which could put them in the path of moving traffic
GPD recommends that if possible, parents and students should carpool to reduce the number of cars at school.
Biking safety
If your kids are biking to and from school, GPD says they should:
Always wear bright-colored clothing and a properly fitted and secured helmet
Ride single file on the right side of the road
Come to a complete stop before crossing a street and walk the bike across
Watch for opening car doors and other hazards
Use hand signals while turning
Find a safe route