San Marcos police searching for car break-in suspects
SAN MARCOS, Texas - The San Marcos Police Department is asking for the public's help in identifying two burglary suspects who were seen breaking into cars at an apartment complex.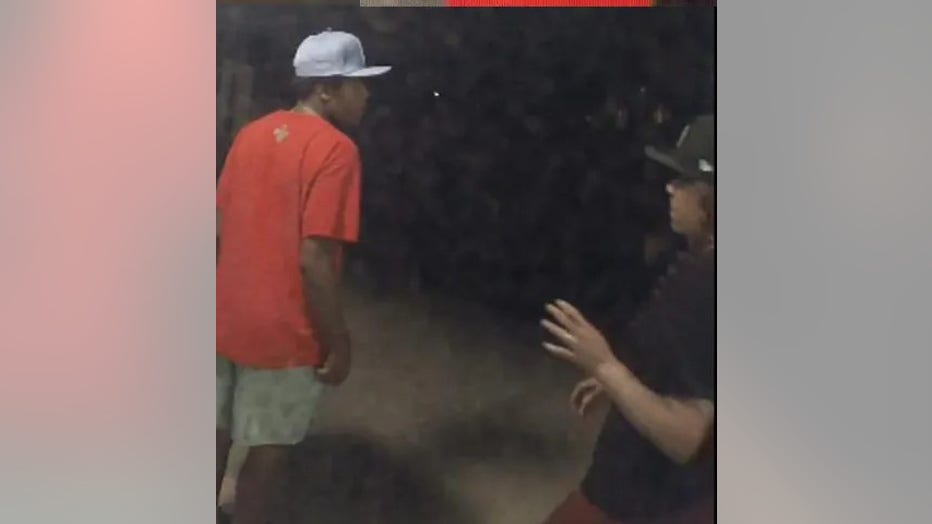 Suspects 1 and 2 (San Marcos Police Department)
On Tuesday, August 22 between approximately 4:30 and 5:00 a.m., video caught two subjects in the parking lot and mailbox area of the Verandah Apartments at 1805 N. I-35 in San Marcos.
The subjects were seen checking door handles to vehicles, entering several vehicles and stealing items.
Suspect 1 (San Marcos Police Department)
Suspect #1 is described as:
A black male
5'9"-5'11"
Wearing a light blue Houston Oilers hat, an orange shirt, Khaki shorts, a chain necklace, a watch on his left hand and black shoes.
Suspect 2 (San Marcos Police Department)
Suspect #2 is described as:
A Hispanic female
5'6"-5'8"
170-200 lbs
Dyed dark red hair
Wearing a black shirt, a black hat and red Spandex shorts
Tattoos on both arms, possibly the right side of her neck, and on the upper thigh and lower right leg.
If you have or know any information about this incident, the suspects or their whereabouts, please contact the San Marcos Police Department or call Crime Stoppers at 1-800-324-TIPS.