FOX 7 Friday Football Game of the Week: Liberty Hill vs Georgetown
AUSTIN, Texas - Week 3 of the Central Texas high school football season brings another FOX 7 Friday Football Game of the Week!
Every Thursday, FOX 7 Austin will feature one upcoming high school football game and offer you, the viewer, the chance to vote on who you think will win.
FOX 7 Austin is now on the FOX LOCAL app available through Apple TV, Amazon FireTV, Roku and Google Android TV!
This week's matchup is between two of the area's top Class 5A teams: the Liberty Hill Panthers and the Georgetown Eagles.
The Panthers are coming off a win in a game that can safely be dubbed "an instant classic". 
Liberty Hill outlasted Hutto in the ultimate scorefest, beating the Hippos 82-80 in a game that garnered state-wide, and even some national attention. 
Liberty Hill (1-1) overcame an 800 total yard night from Hutto QB Will Hammond with two 300-yard rushers in Noah Long and Ben Carter. 
Georgetown (1-1) comes into the match-up on a down note after the Eagles lost to 6A Vista Ridge 28-17 after falling behind 28-2 early in the second half. 
Georgetown will look to get back in the win column as well as get some payback for last year, when they lost at Liberty Hill 49-35. 
So what do you think? Will Georgetown bounce back after its Week 2 loss or will Liberty Hill add another win to their record?
RESULTS
Once again, over half the viewers who voted chose the week's winners, the Liberty Hill Panthers!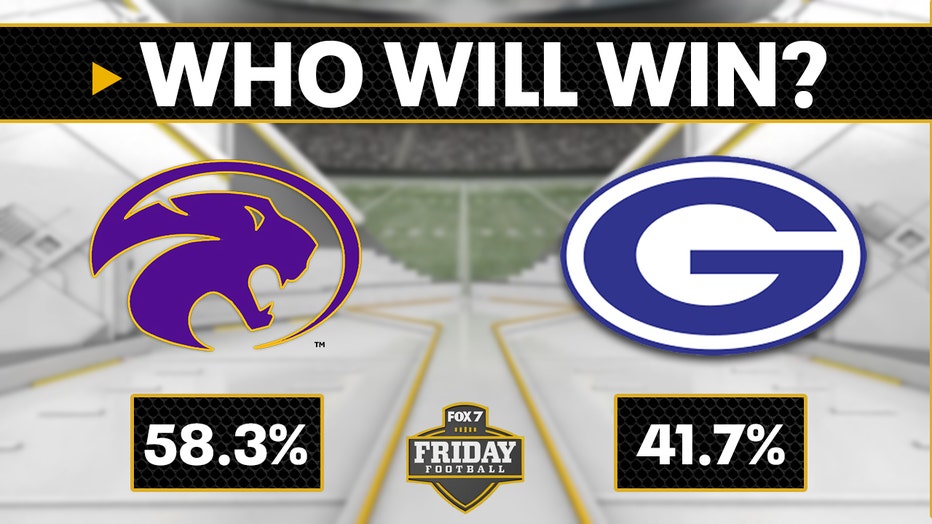 Nearly 60% of voters (58.3% to be precise) chose the Panthers to win over the Georgetown Eagles.
Liberty Hill scored late in the game Friday night to win another wild one 45-42.
The Panthers are now 2-1 this season, while the Eagles drop to 1-2.