North Carolina angler's colorful puddingwife catch may set world record in saltwater fishing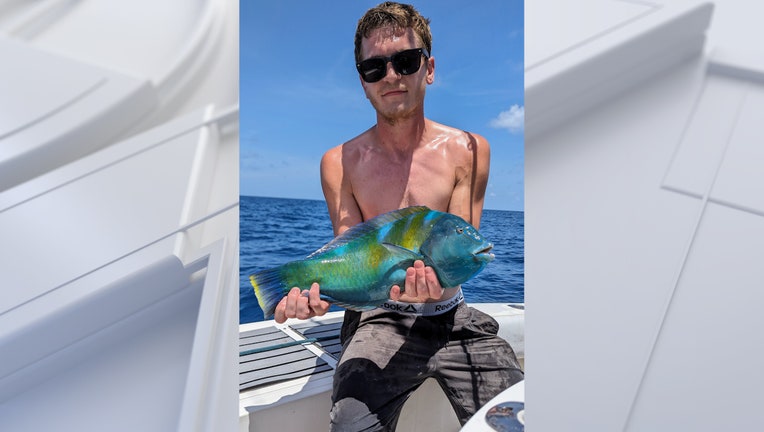 article
SOUTHPORT, N.C. - A North Carolina man's catch of the day may actually break a world record!
30-year-old Connor Stone of Southport, North Carolina, caught a colorful puddingwife about 35 miles off the state's coast back in July. 
The vibrant, colorful fish appeared mostly in different shades of blue highlighted with yellowish-green hues. 
"I've never seen a puddingwife wrasse before that day, and I honestly didn't know what to really think when I first saw it," Stone told FOX Television Stations. "It kind of looked like a parrot fish, but it had weird looking human like teeth."
RELATED: South Carolina auto mechanics find 8-foot albino boa constrictor in engine: 'Is someone missing their pet?'
"The colors were really vibrant and some of the prettiest I've seen," he continued. 
A closer look at the puddingwife Stone caught.  (Connor Stone )
Stone already broke the state's record, and now he could break a world record. The fish weighed in at 3 pounds and 11 ounces. Stone said the fish outweighs the current world record by 3 ounces. 
He's now waiting for a response after submitting his application to the International Game Fish Association. 
RELATED: Pig found on Bacon Creek Road taken into 'custody' by Kentucky police
Stone said he's originally from Wisconsin but moved to North Carolina a few years ago. He said he "lived down [North Carolina] here for 3 years now and would never have thought this to happen."
He said he doesn't have an extensive background in saltwater fishing, but picked up on the activity after moving to the South. 
"Although since moving down here I figured I would get into fishing more, and that's what I've been doing for a while now," he added. 
RELATED: Sibling cats left at shelter with heartbreaking note: 'My mom can't take care of me anymore'
Stone said he works for an electrical company, and his boss, Bob Mace, owns a boat. They take the boat out on the water every day. 
"I'm lucky my boss loves to fish and takes us out when he gets the chance to," Stone said. 
This story was reported from Los Angeles.