Jonathon Brooks, No. 3 Texas beats No. 24 Kansas 40-14 with Jayhawks QB Jalon Daniels out
AUSTIN, Texas - Jonathon Brooks and balance. Texas has been using both to put teams away through the first half of the season.
Brooks rushed for 217 yards and two touchdowns as No. 3 Texas piled up more than 600 total yards in a 40-14 win over No. 24 Kansas, which lost standout quarterback Jalon Daniels in pregame warmups with back stiffness.
Quinn Ewers passed for 325 yards and ran 30 yards for the game's first score. Texas (5-0, 2-0 Big 12) also got another standout game from its defense, which has surrendered just three touchdowns in the past three games.
Brooks, who was behind freshman C.J. Baxter on the depth chart when the season started, now has three consecutive 100-yard rushing games and a team high six touchdowns. He averages 7.0 yards per carry.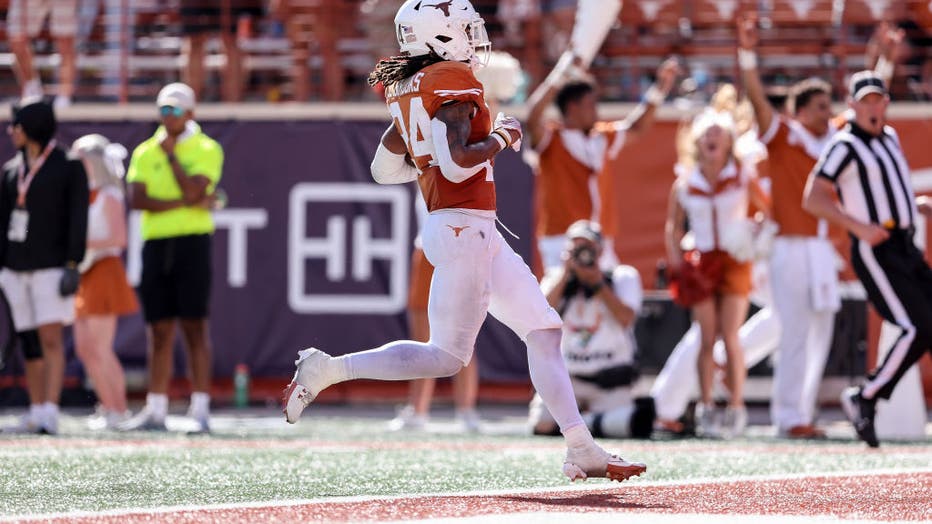 AUSTIN, TEXAS - SEPTEMBER 30: Jonathon Brooks #24 of the Texas Longhorns rushes for a touchdown in the third quarter against the Kansas Jayhawks at Darrell K Royal-Texas Memorial Stadium on September 30, 2023 in Austin, Texas. (Photo by Tim Warner/Ge
"He is a home run hitter for us right now," Texas coach Steve Sarkisian said.
Brooks' first touchdown came on a 54-yard run. His second came after Texas recovered a fourth-down fumble, putting the Longhorns ahead 26-14 late in the third quarter.
His only blemish Saturday was getting chased down from behind on a 67-yard run.
"That (defender) was fast," Brooks said.
Texas finished with 336 yards rushing and 661 yards overall, and wore down Kansas (4-1, 1-1) in the second half. The Longhorns blew the game open in the fourth quarter with Ewer's touchdown pass to Adonai Mitchell and the quarterback's second touchdown run.
"We can run and pass," Brooks said. "We just kept going back to (the run), breaking the other team's will and being really physical."
Sarkisian said Texas is gaining confidence it can win with any game plan.
"We keep talking about being versatile and finding different ways," Sarkisian said. "Championship teams get better during the season, I think that's something we've done."
Kansas was hamstrung by the unexpected loss of Daniels, the preseason Big 12 offensive player of the year, who was with the team at the start of warmups. But he didn't finish them, leaving the offense with backup Jason Bean. Kansas managed just 260 total yards.
"We tried to get him ready. We thought we could get him out there," Kansas coach Lance Leipold said. "It is what it is .... We just never got in sync."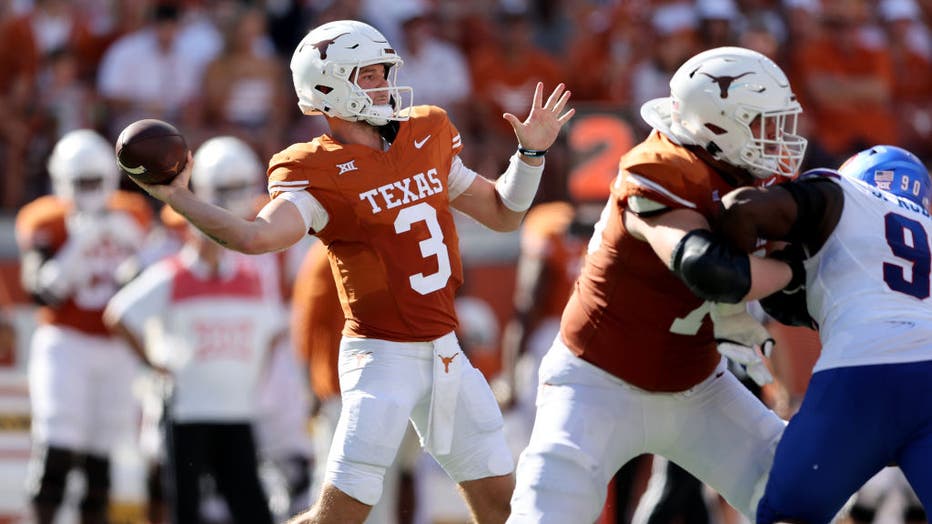 AUSTIN, TEXAS - SEPTEMBER 30: Quinn Ewers #3 of the Texas Longhorns throws a pass in the third quarter against the Kansas Jayhawks at Darrell K Royal-Texas Memorial Stadium on September 30, 2023 in Austin, Texas. (Photo by Tim Warner/Getty Images)
Bean passed for 136 yards and a 58-yard touchdown to Trevor Wilson that pulled Kansas within six points early in the third quarter. But missing Daniels, the hero of Kansas' upset win here in double-overtime in 2021, turned the Jayhawks heavily reliant on a running game that struggled.
Daniels also missed the first game of the season with back problems. Texas hasn't faced an opponent's starting quarterback since beating Alabama and Jalen Milroe in the second game of the season.
Leipold said he would not speculate on how big of a difference Daniels could have made if healthy.
"That's not fair to Jason, it's not fair to Jalon and honestly, it's not fair to this football team," Leipold said.
THE TAKEAWAY
Kansas: Despite giving up the big rushing yards, the Jayhawks' defense played pretty well in the Texas heat in the mid-90s for three quarters. Two Texas drives ended near the endzone with Longhorns field goals instead of touchdowns, and Texas missed two more kicks. Kansas even snagged the first interception thrown by Ewers this season, That kept the Jayhawks in the game, but the constant pounding from Brooks and Baxter in the fourth quarter finished them off.
Texas: The Longhorns are showing tremendous balance on offense and did not punt. But a problem is emerging in the kicking game that has cost points when game are still close. Kicker Bert Auburn is 9 of 14 this season and has struggled from long range with three misses beyond 40 yards. It hasn't hurt Texas yet, but the misses kept Kansas in the game well into the second half.
"We had our sputters when we approached the red area," Sarkisian said. "The common theme is the way we finished."
POLL POSITION
Another double-digit win should keep Texas comfortably in the top three heading into next week's showdown with Oklahoma.
INJURY CONCERN
Texas does have a key injury to watch this week. Tight end Ja'Tavion Sanders left the game in the first half after limping off the field with a hurt left leg. He has two 100-yard receiving games this season and is a key part of the offense. Sarkisian said the initial prognosis was no bone or ligament injury, but it's unknown yet if Sanders can return in time to play Oklahoma.
"We are hopeful we will get him back. It's how does he respond?" Sarkisian said.
WILD PLAY
Kansas' first touchdown was a wild one. Bean bolted into open field on an option keeper before he was drilled by Texas safety Jalon Catalon. The ball popped out and bounced right to the Jayhawks' Daniel Hinshaw, who was trailing the play. It was a simple scoop and score for Hishaw, who finished off the final 18 yards to the end zone.
UP NEXT
Kansas hosts new Big 12 member Central Florida on Saturday.
Texas meets border rival No. 14 Oklahoma in Dallas on Saturday.