Central Texas weather: Winter Storm Warning extended through Thursday as ice threat increases
AUSTIN, Texas - A Winter Storm Warning is in effect for all of Central Texas.
The National Weather Service has extended the warning through 10 a.m. Thursday, Feb. 2 for Travis, Williamson, Blanco, Burnet, Llano, Hays, Gillespie, Milam, San Saba, Lampasas and Mason counties. 
A winter weather advisory was issued for Bastrop, Lee, and Caldwell counties until 8 a.m. Thursday, Feb. 2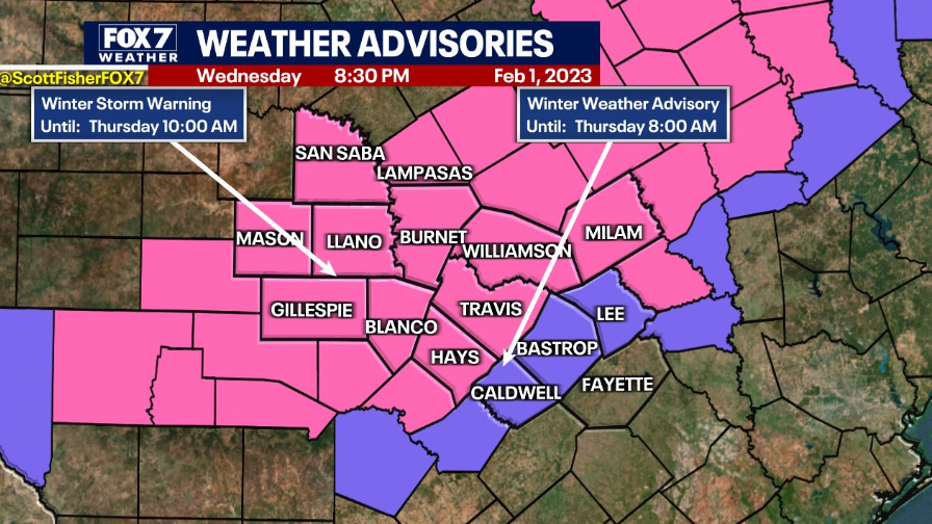 RELATED: Watch vs. Warning: Here are the differences between these weather terms that could save your life
The Winter Storm Warning means freezing rain is likely and will last for hours. It will lead to power outages and hazardous travel. 
There is a good chance we stay freezing all day. 
As the Western Low gets closer tonight the freezing rain and rain will become more widespread and intense. The icing threat will increase also. 
The icing threat will increase also the next 24 to 36 hours and officials expect it will lead to power outages and hazardous travel.
Metal objects and back porches will ice over first. As the rain increases, and it gets colder, more icy spots will show up on the roads.
Ice totals of .25" to .50" are possible north and west of Austin, while ice totals of .10" to .25" are possible around the Austin Metro and east.
Make sure you check in with us on FOX 7 Good Day Austin this morning with more local weather and traffic reports til 10 a.m.
RELATED: TxDOT offers winter weather driving tips
DPS offers the following tips to stay safe on the road:
Monitor local weather broadcasts and check the latest weather conditions from the National Weather Service before you hit the road.
Avoid traveling when sleet, freezing rain or snow is predicted, and monitor road conditions by visiting Drive Texas or calling (800) 452-9292.
If you must drive in inclement weather, allow extra time to reach your destination. Share your travel plans with a friend or family member so someone knows the route you're taking.
On icy roads, drive slowly and increase the distance between your vehicle and others, as you may need additional room to stop.
Do not use cruise control.
Ensure your vehicle has a full tank of gas.
Be aware that ice accumulates on bridges and overpasses before drivers may see it on roads, so approach them more slowly in winter weather.
Watch for downed trees and power lines. If a stop light is out, treat the intersection as a four-way stop.
Track your local forecast for the Austin area quickly with the free FOX 7 WAPP. The design gives you radar, hourly, and 7-day weather information just by scrolling. Our weather alerts will warn you early and help you stay safe during storms.