Winter weather in Texas: Multiple crashes & road closures due to icy conditions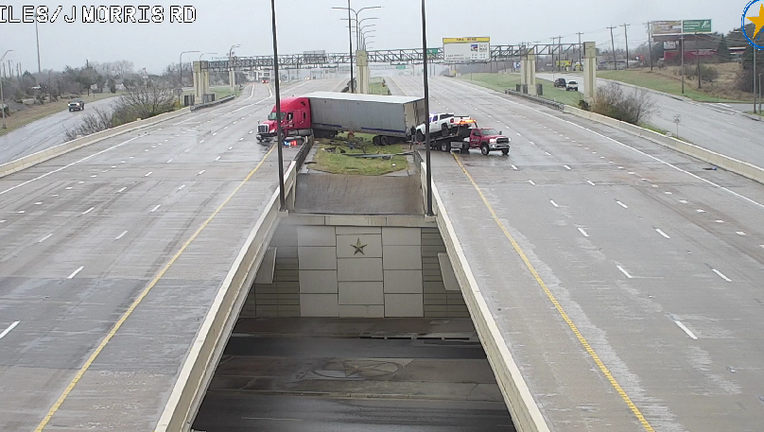 article
AUSTIN, Texas - Central Texas law enforcement is asking people to stay at home and off the roads freezing rain has caused icy conditions on roads, bridges, and flyovers.
There were multiple crashes including one that involved a Travis County Sheriff's deputy and another that involved 10 vehicles in South Austin, leaving one person dead.
Conditions are not expected to improve as a Winter Storm Warning has been extended until 6 a.m. Thursday, February 2 for all of Central Texas.
If you do have to be out on the roads DPS offers the following tips to stay safe:
Monitor local weather broadcasts and check the latest weather conditions from the National Weather Service before you hit the road.
Avoid traveling when sleet, freezing rain or snow is predicted, and monitor road conditions by visiting Drive Texas or calling (800) 452-9292.
If you must drive in inclement weather, allow extra time to reach your destination. Share your travel plans with a friend or family member so someone knows the route you're taking.
On icy roads, drive slowly and increase the distance between your vehicle and others, as you may need additional room to stop.
Do not use cruise control.
Ensure your vehicle has a full tank of gas.
Be aware that ice accumulates on bridges and overpasses before drivers may see it on roads, so approach them more slowly in winter weather.
Watch for downed trees and power lines. If a stop light is out, treat the intersection as a four-way stop.
Track your local forecast for the Austin area quickly with the free FOX 7 WAPP. The design gives you radar, hourly, and 7-day weather information just by scrolling. Our weather alerts will warn you early and help you stay safe during storms.
Below is a look at some of the reports from area agencies.
Austin
We're already starting to see several crashes involving injuries this morning.
On Tuesday, the Austin Police Department, Austin Fire Department, and Austin-Travis County Emergency Medical Services Department responded to over 300 traffic collisions and dozens of falls due to ice. Several first responders have also been injured while working at collision scenes. 
Many of the wrecks involved multiple vehicles in separate accidents in the same location due to icing.
The area with the biggest issue Tuesday was the I-35 and SH45 flyover in far South Austin. Multiple vehicles were reported to be in collisions or stuck on the flyovers due to ice.
Austin police meanwhile said it had investigated more than 30 collisions since around 5:40 a.m. on January 31. Several crashes happened overnight as well. 
APD reminds drivers that barricades are in place for safety and ask people to not drive past or move them. 
Austin-Travis County EMS tweeted out that its medics and public safety partners had responded to or were on scene of three rollovers, eight traffic injuries, and two vehicle rescues at around 9 a.m. on January 31. 
Travis County Fire Rescue reported all bridges/overpasses on SH 130 south of the Colorado River are extremely dangerous and that traveling on that road is risking injury to yourself and others.
RELATED COVERAGE:
Cedar Park
Due to increased icing, the 183A Toll Road was shut down in both directions as of 5:34 a.m. on January 31.  Cedar Park police say they will continue to monitor the road conditions and reopen it when it's safe to do so. No update has been provided as of 1:45 p.m.
Leander
With increasing icy conditions and crashes, the southbound lanes of Ronald Reagan from 2243 to south of the bridge have been closed. 
The northbound lanes in this same area have been reduced to one lane at the bridge. Traffic lights at 2243/Ronald Reagan have been placed on flashing red.
Pflugerville
Pflugerville police said the flyovers from northbound and southbound 130, and eastbound and westbound 45 are closed due to ice on the roadways at 9 p.m. on January 30.
The flyovers will be closed until further notice.
Officials say to head to this website to get more information and updates.
Round Rock
Round Rock police put out a list of roadways to avoid and ones that were closed in the area.
At 12:13 p.m., RRPD tweeted out the following icy roads to avoid:
Kenney Fort Blvd north of Forest Creek Drive
FM 1431 west of IH-35
AW Grimes Blvd at Chandler Creek Blvd
Old Settlers Blvd at Chisholm Trail Rd
Westinghouse Rd turnaround at IH-35
Memorial Park low water cross is closed
At 10:45 a.m. RRPD tweeted out about the following roads that were closed:
All flyovers between IH-35 & SH-45
SH-45 westbound exit for Greenlawn
SH-45 eastbound exit for La Frontera
Northbound IH-35 exit for RM 620 is shut down
Eastbound RM 620 at Chisholm Trail
This is a developing story, refresh for the latest updates.