1100 gallons of diesel fuel stolen from Pflugerville gas station: police
PFLUGERVILLE, Texas - The Pflugerville Police Department is investigating the felony theft of over 1000 gallons of diesel fuel from a Pflugerville gas station earlier this year.
Police say two vehicles pulled up to the Chevron gas station at 20205 FM 685 on Friday, July 28 just before 1:30 a.m.
One, described as a 2008-2018 white Toyota Sequoia, briefly stopped over the diesel tank and faced south observing northbound traffic, serving as "lookout". An unknown male was caught on security camera by the car.
An early 2000s Ford van with multiple occupants parked over the diesel tank.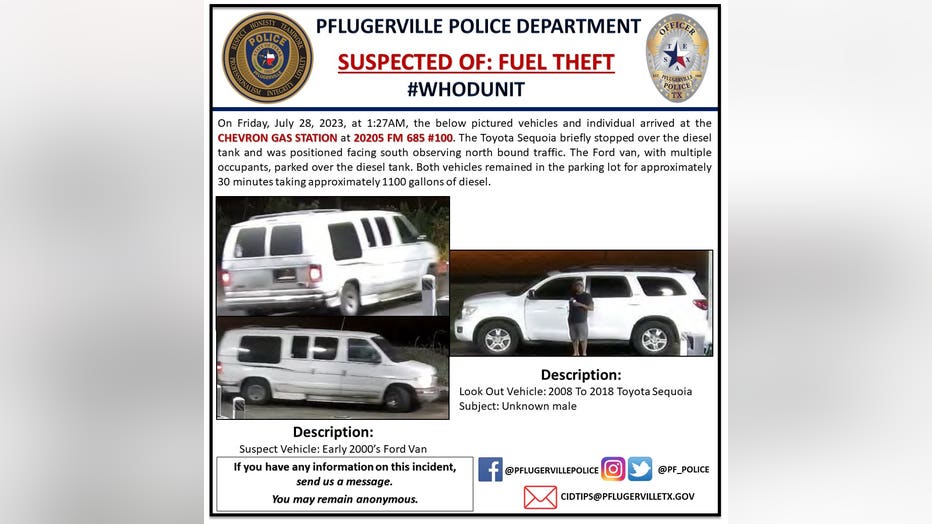 Both vehicles stayed in the parking lot for around 30 minutes.
Approximately 1100 gallons of diesel was taken from the tank, making this a felony offense, says Pflugerville police.
Anyone with information on this incident or the suspect vehicles is asked to contact Pflugerville police or call the tipline at 512-990-6700. Residents are advised to not attempt to apprehend or detain the suspects.