Suspects with kids in tow steal from liquor store in Leander
LEANDER, Texas - Leander police need your help identifying four adults who they say stole from a liquor store with two kids in tow.
Police say on the night of November 4, two women and two men entered the Twin Liquors Store on N. US 183, with two middle school-aged children.
When they were inside, police say one suspect kept the employee busy, while the other three stole bottles of liquor.
Police say they were seen leaving in a black Toyota sedan.
All four suspects are believed to be involved in similar thefts in Cedar Park and the North Austin area, Leander police say.
"In this specific incidence, the children, we believe, were just used as a ruse to come into the store," Lt. Mike Mohler with the Leander Police Department said.
Police say the suspects hid the stolen liquor bottles in the kids' backpacks.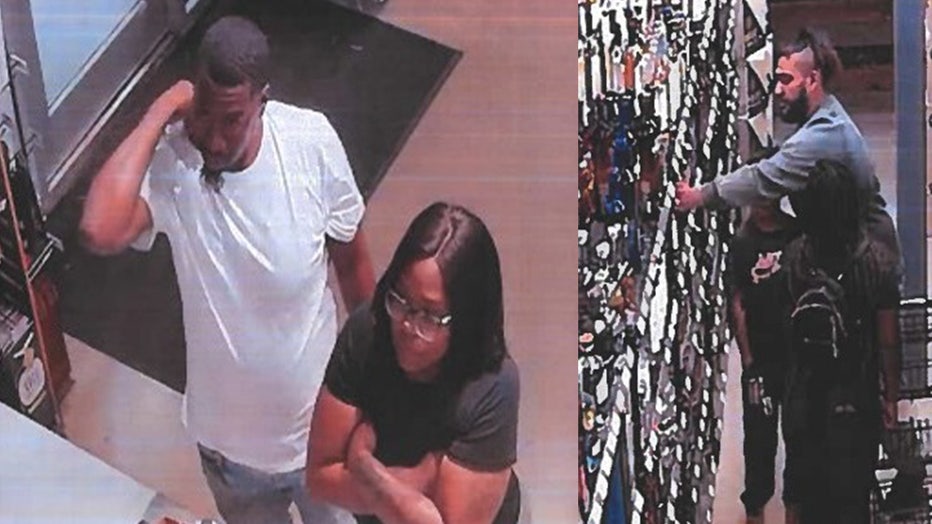 Police say four adults brought two middle school-aged children with them when they stole liquor bottles, and they've done it before. (Leander Police Department)
MORE CRIME COVERAGE
If the suspects are caught and interviewed, police would also figure out who the kids are and talk to them too.
"They would be interviewed as far as what's going on in their home life, school life. Is there any other type of criminal activity occurring with the family? The kids will be interviewed extensively about everything going on," Mohler said.
Mohler says the suspects would likely face charges of theft and engaging in organized criminal activity. 
He says in his over two decades of experience, this is the first time he's seen people use kids in a liquor store theft, though he has seen it in department store thefts.
"It happens, and thank goodness it doesn't happen quite all that often, but it does happen. This is one of the first instances in Leander that I'm aware of that, you know, people have used children in this manner," he said.
If you have any information that may lead to the identity of the suspects, please contact Detective M. Silva at 512-528-2805 or msilva@leandertx.gov and reference case #23-298.