Phase one of Project Connect approved with final light rail design
AUSTIN, Texas - The new Austin Light Rail final design has been approved.
In a tri-party meeting between CapMetro, Austin Transit Partnership and the City of Austin on Tuesday, phase one of Project Connect was approved, with initial plans for rail service to expand through downtown and central Austin. 
The adopted plan follows the updated and shrunken final design, which was announced in late May.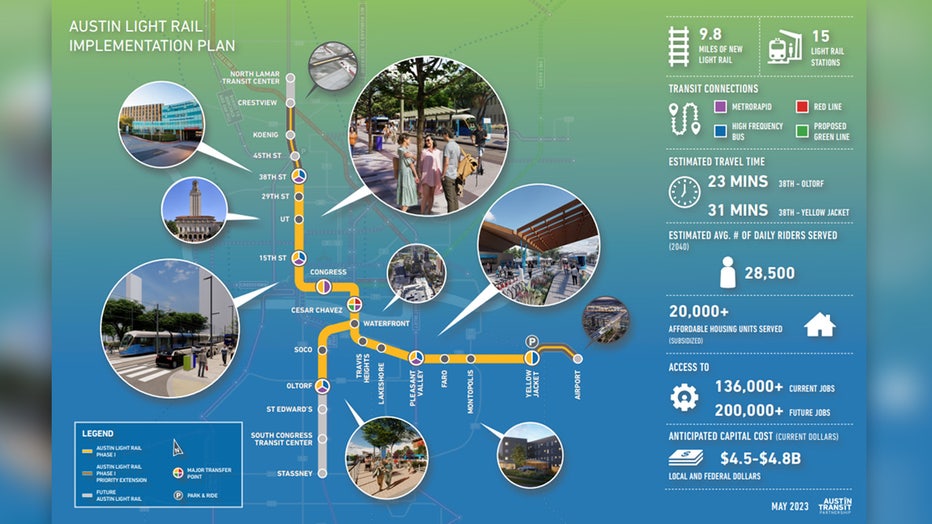 A map details phase one of Project Connect. (Courtesy of Austin Transit Partnership)
Phase one will include an initial line starting at 38th and Guadalupe streets and leading south to Oltorf Street and Congress Avenue. The line will split just south of Lady Bird Lake, with an eastward portion leading to a proposed park-and-ride station at Yellow Jacket Lane and Riverside Drive. 
Two priority extensions are planned as well, with one extending eastward to serve Austin-Bergstrom International Airport and a northward extension to Crestview Station. Both planned extensions will depend on available funding.
"It's a system that connects jobs, it connects destinations, and it connects to affordability, and it connects Austin to each other," said Greg Cannally, executive director at Austin Transit Partnership, in an interview with FOX 7 Austin in May. "It's a light rail system that Austin's been talking about for years."
Voters enthusiastically approved initial plans for Project Connect alongside a $7.1 billion proposed property tax increase to fund the project in 2020, but plans have since changed. Citing high costs, Austin Transit Partnership announced a reduced plan for the light rail system earlier this year after considering five different options in March.
This reduced plan scrapped initial talks of a downtown subway route and decreased the overall length of the original plan by nearly half. Downtown routes, included in the first phase approved Tuesday, will now be above-ground and run adjacent to street traffic. 
Costs for the first phase have been estimated by Austin Transit Partnership to total $4.5 to 4.8 billion.
"We will have coverage in all three directions that lay the foundation for future extensions to the North, South, and East," said Lindsay Wood, executive Vice President at Austin Transit Partnership, in a CapMetro board meeting on Friday.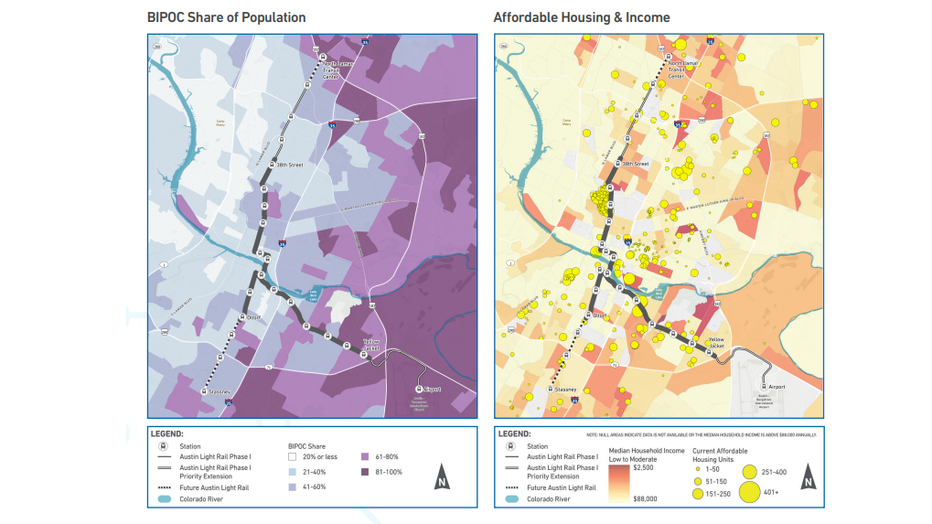 A map depicts phase one of Project Connect and various BIPOC and low-income communities that it will service. (Courtesy of Austin Transit Partnership)
Rail coverage under the plan will prioritize central and downtown Austin, targeting areas of high population and job density. The plan, according to Austin Transit Partnership, will also serve many BIPOC communities and lower income areas.
Phase one will provide more efficient transit connections between populated areas and centers for commerce, health and education. Wood said. "This will maximize the accessibility and the visibility of the system to create… a system that people will use and want more of."