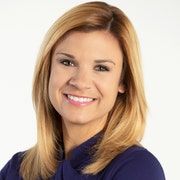 Jane Lonsdale
Traffic Anchor/Reporter
Jane is no stranger to early mornings and loves to wake up "dark and early" to share news and traffic with viewers during Good Day Austin. Her hometown is Cleveland, Ohio and she holds a Bachelor of Science in Journalism from the E.W. Scripps School of Journalism at Ohio University.
Jane's news career kicked off in Lima, Ohio where she started as the weekend reporter and then became the weekday morning anchor at WLIO-TV. It was then time to head to the Lone Star State as she accepted a morning anchor position at KCEN-TV in Waco. Jane fell in love with the sheer kindness of Texans, and the variety of outdoor activities available.
Austin holds a special place in her heart, and she is thrilled to live in Texas' capital city.
In her free time, Jane enjoys hiking, camping, good food and a vibrant music scene. Austin presents the perfect landscape for these pastimes. If you see Jane out and about around town, she encourages you to say hi! She loves getting involved within her local community. If you have an interesting story idea, feel free to reach out. 
The latest from Jane Lonsdale