No. 7 Texas stays alone atop Big 12 after 26-16 win against Iowa State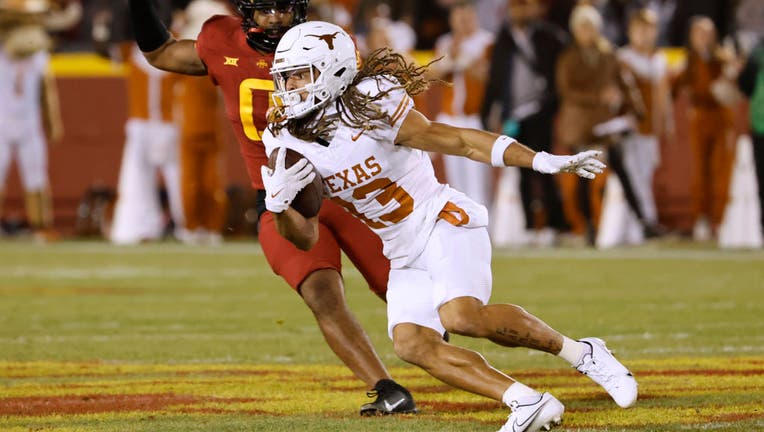 article
AMES, Iowa - Texas won a 10th regular-season game for the first time since 2009, and it was an accomplishment Jordan Whittington believes is worth savoring.
"I haven't won 10 games since high school," the Longhorns' receiver said after a 26-16 win over Iowa State on Saturday night. "A lot of people expect greatness. That's human. But people need to take a moment and realize where we are and what we're doing and be grateful."
Quinn Ewers passed for 281 yards and two touchdowns, and the seventh-ranked Longhorns (10-1, 7-1, No. 7 CFP) pulled away to stay alone atop the Big 12 standings and on track to play in the conference championship game.
Ewers completed 23 of 33 passes and C.J. Baxter rushed for 117 yards, helping Texas extend its winning streak to five after an Oct. 7 loss to Oklahoma.
"This was not one phase or one aspect," Longhorns coach Steve Sarkisian said. "This was a lot of different players making plays tonight, making plays in some pretty critical moments."
Rocco Becht threw for 323 yards and two touchdowns for Iowa State (6-5, 5-3), but the Cyclones netted only 9 yards rushing and averaged less than a half-yard per carry.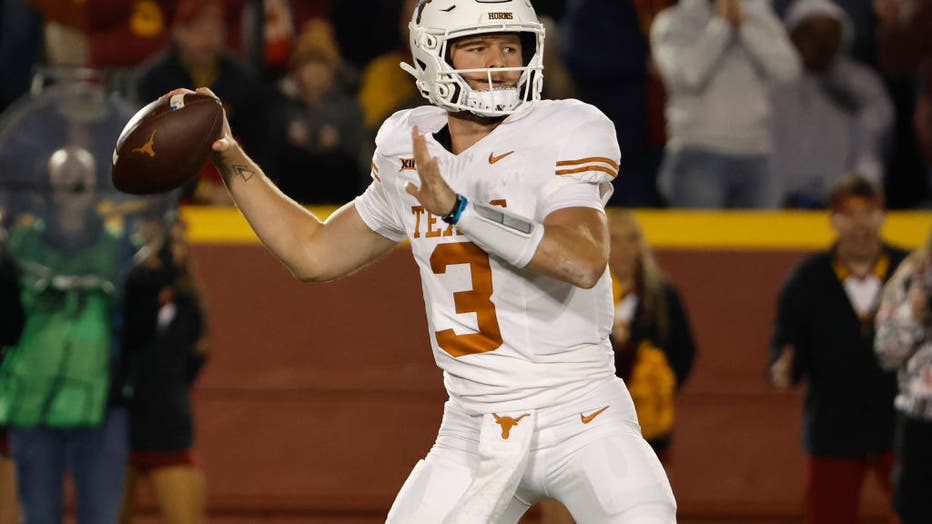 AMES, IA - NOVEMBER 18: Quarterback Quinn Ewers #3 of the Texas Longhorns throws the ball in the first half of play at Jack Trice Stadium on November 18, 2023 in Ames, Iowa. The Texas Longhorns won 26-16 over the Iowa State Cyclones. (Photo by David
"They're big and physical on the defensive line and their front six, front seven are outstanding," ISU coach Matt Campbell said. "We knew that coming into the football game."
Campbell added, "We never played in flow. When we're at our best we're playing complementary football, and we didn't have that much tonight. Credit to them."
Ewers' second touchdown came on the first play of the fourth quarter. His 31-yard strike to a wide-open Gunnar Helm and toss to Whittington on the 2-point try made it 23-9.
Iowa State pulled within 13-9 when Becht threw a 14-yard touchdown to Eli Sanders, but the Longhorns' T'Vondre Sweat blocked the extra-point kick and Austin Jordan ran it back 82 yards for two points and a 15-9 advantage.
Jerrin Thompson then intercepted Becht at the Texas 40-yard line to set up Ewers' TD pass to Helm.
The Cyclones answered with a 66-yard touchdown pass from Becht to Easton Dean, trimming the margin to 23-16.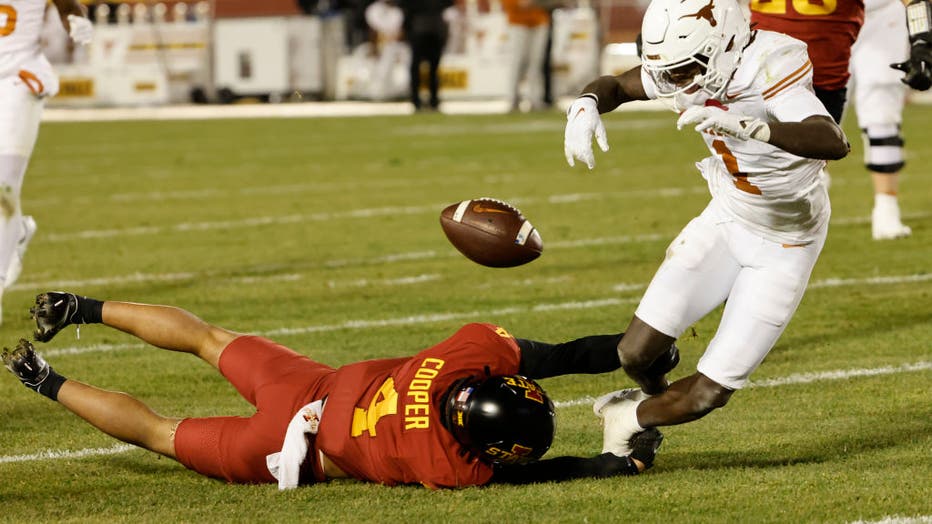 AMES, IA - NOVEMBER 18: Wide receiver Xavier Worthy #1 of the Texas Longhorns fumbles the ball as defensive back Jeremiah Cooper #4 of the Iowa State Cyclones makes the tackle while defensive back Malik Muhammad #5 of the Texas Longhorns watches on i
Bret Auburn's 42-yard field goal for Texas made it a 10-point game with 6:10 left and extended his streak of makes to 14.
"To get the ball, possess the ball and then get that field goal was a really big drive in the game," Sarkisian said. "And Bert Auburn does it again."
The Cyclones' slim hopes to play for the Big 12 title ended. Last week they became bowl-eligible for the sixth time in Campbell's eight years.
"We don't have a damn thing to be embarrassed about," he said. "I'll be real honest with you, I'm excited about getting back to work with this football team. At the end of the day we'll let the end of the football season define where we're at and where we came from. Really proud of our kids. Kids gave great effort. That's the No. 7 team in the nation. We had opportunities. Man, it's that execution, that inch we have to keep pounding away at."
THE TAKEAWAY
Texas: The Longhorns, who had lost in their previous two visits to Ames, had to win this one not just to remain on the inside track for a spot in the Big 12 title game but also to keep their hopes alive for a College Football Playoff bid.
Iowa State: The Cyclones had won four of their previous five to stay in the Big 12 race until mid-November. Now they are left to play for a best possible bowl slot.
POLL IMPLICATIONS
The Longhorns probably won't move up because every team ahead of them won Saturday. Texas has been ranked No. 7 the past four weeks after peaking at No. 3.
UP NEXT
Texas: Host Texas Tech on Friday.
Iowa State: Visits Kansas State on Saturday.