QB Ewers back for No. 7 Texas in 29-26 win at TCU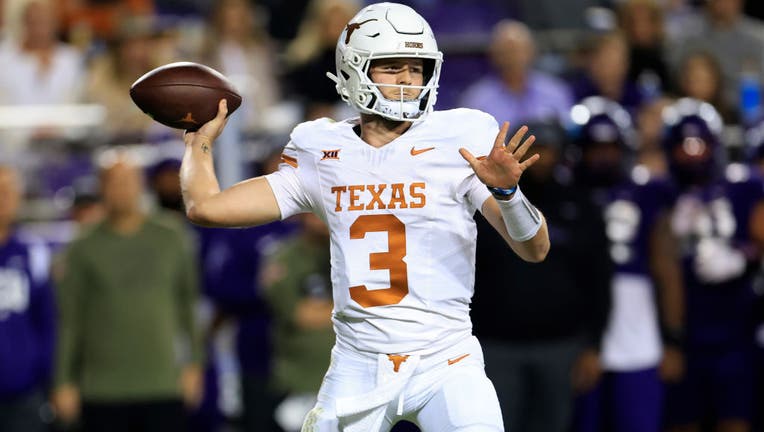 article
FORT WORTH, Texas - Texas quarterback Quinn Ewers felt just as comfortable as he did before missing two games after injuring his throwing shoulder. He returned with the Longhorns still on track for the Big 12 championship game and part of the conversation for the College Football Playoff.
Ewers passed for 317 yards and a touchdown, making a big throw on a clinching 35-yard completion in the final 2 minutes as the No. 7 Longhorns held off TCU for a 29-26 win Saturday night.
"It's getting better every day," said Ewers, who completed 22 of 33 passes "I'm just going to keep getting treatment and keep rolling."
The Longhorns (9-1, 6-1 Big 12) also got a big lift from Jonathon Brooks, who rushed for 104 yards and two TDs and set up another score with a 73-yard gain on a short pass before getting hurt late. Xavier Worthy had 10 catches for 137 yards.
"Quinn, coming off of an injury, I don't know if I could have asked for much more," Longhorns coach Steve Sarkisian said. "I thought he stood in the pocket. I thought he made some throws in some critical moments. ... I'm happy that he was able to play the way he did."
Emani Bailey ran for 98 yards, including a 17-yard touchdown to start a fourth-quarter rally for TCU (4-6, 2-5). But last year's national runner-up lost its third consecutive game.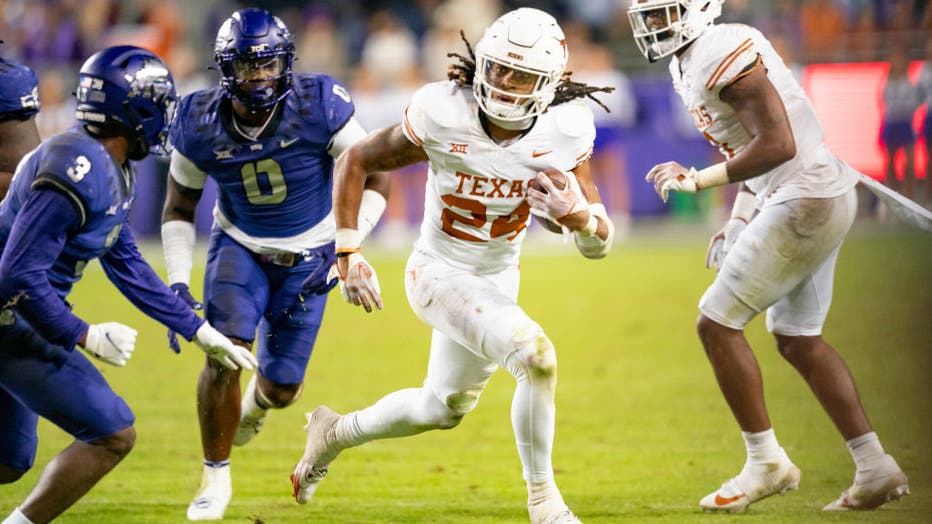 FORT WORTH, TX - NOVEMBER 11: Texas Longhorns running back Jonathon Brooks (24) runs the ball during a game between the Texas Longhorns and TCU Horned Frogs college football game on November 11, 2023 at Amon G. Carter Stadium in Fort Worth, TX. (Phot
Josh Hoover threw for 302 yards with an interception, but had the Frogs close after two late TDs. JP Richardson caught his own deflection for a 3-yard score, and Hoover had a 14-yard TD pass to Savion Williams, who finished with 11 catches for 164 yards.
The Horned Frogs then kicked deep, and called timeout with 2:06 left with Texas facing third-and-12 from its own 13. TCU never got the ball back after Ewers found Adonai Mitchell 1-on-1 and hit him for 35 yards and a first down.
"I thought just go give it a shot, and it usually works out in our favor," Ewers said. "It was pretty cool for him to come down with that ball."
Brooks spent several minutes in the injury tent midway through the fourth quarter after gaining 7 yards on the last of 21 carries in his sixth 100-yard game this season. He walked gingerly with help on his way to the locker room before the end of the game. Sarkisian didn't have an update on Brooks.
The Horned Frogs led 3-0 on a 41-yard field goal by Griffin Kell, who added a 56-yarder on the following possession.
On the first play after Kell's 41-yarder, Ewers rolled to his right before reversing and throwing behind the line to Brooks, who weaved through defenders before getting tripped up at the 2. He ran for a TD on next play to put Texas ahead to stay.
Brooks lunged to the front pylon for a 22-yard TD run at the end of the first half, making it 26-6. That extra score came after Terrance Brooks intercepted a pass by Hoover in the final minute.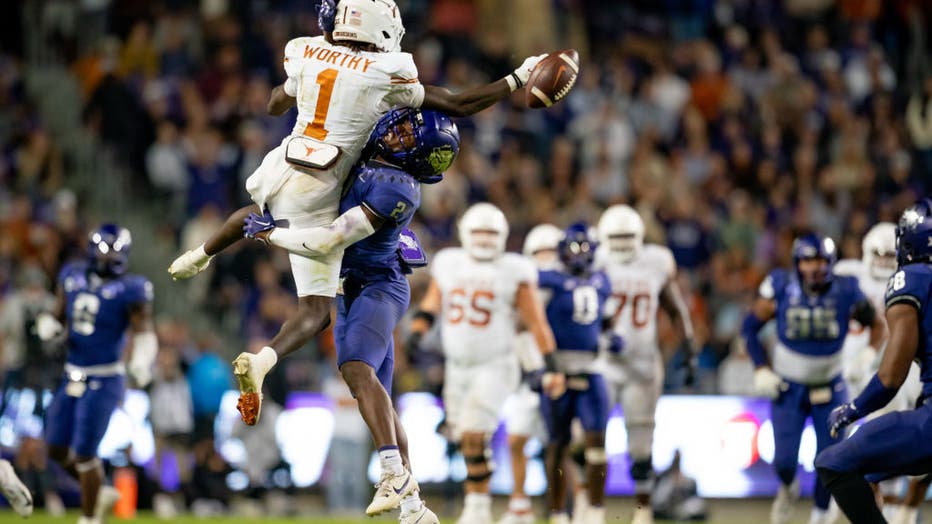 FORT WORTH, TX - NOVEMBER 11: TCU Horned Frogs cornerback Josh Newton (2) breaks up a pass for Texas Longhorns wide receiver Xavier Worthy (1) during a game between the Texas Longhorns and TCU Horned Frogs college football game on November 11, 2023 a
THE TAKEAWAY
Texas: The Longhorns won both games Maalik Murphy started for Ewers, whose only interception came on a deep ball in the first half, but TCU fumbled the return when receiver Jordan Whittington stripped the defender from behind. The Longhorns recovered only 3 yards behind the previous line of scrimmage.
"That was a critical play," Sarkisian said.
TCU: A year after their undefeated regular season and making the CFP, the Frogs will have to win their final two games against Baylor and 17th-ranked Oklahoma just to get bowl-eligible.
"That's the fourth game this year that we've had the opportunity to win down the stretch and couldn't do it," coach Sonny Dykes said.
BAD TURNAROUND
The last team with a losing record the season after playing for the national title was Texas in 2010. The Longhorns were 5-7 after facing Alabama in the championship game the previous January.
POLL IMPLICATIONS
The biggest question is if the Longhorns will get jumped in the poll by eighth-ranked Alabama, who they beat in the second week this season. The Crimson Tide won 49-21 at Kentucky earlier Saturday, before Texas ended up in a tighter-than-expected game.
UP NEXT
Texas plays at Iowa State next Saturday.
TCU plays its home finale next Saturday against Baylor.