FOX 7 Friday Football Game of the Week: Vandegrift vs Cedar Park
AUSTIN, Texas - We're in the second week of the new Central Texas high school football season, and with that comes the FOX 7 Friday Football Game of the Week!
Every Thursday, FOX 7 Austin will feature one upcoming high school football game and offer you, the viewer, the chance to vote on who you think will win.
FOX 7 Austin is now on the FOX LOCAL app available through Apple TV, Amazon FireTV, Roku and Google Android TV!
This week's matchup is between the Class 6A Vandegrift Vipers and the 5A Cedar Park Timberwolves.
These two used to be longtime district rivals as two of the best programs not only in the area, but in the state. That rivalry has endured despite the teams being separated by classification over the last few seasons.
Both teams are coming off decisive Week 1 wins that also avenged season-opening losses from last year. The Vipers knocked off Dripping Springs 27-7 on the road, while Cedar Park dominated Cedar Ridge 29-7 at home.
Vandegrift has had the momentum in recent head-to-head match-ups against Cedar Park, winning four of the last five, including the last two games by a combined score of 87-7 (45-0 in 2022, 42-7 in 2021).
So what do you think? Will Vandegrift continue their winning streak versus the Timberwolves, or will Cedar Park finally get a win against the Vipers? 
RESULTS
Over half the viewers who voted were right on the money with the Vandegrift Vipers!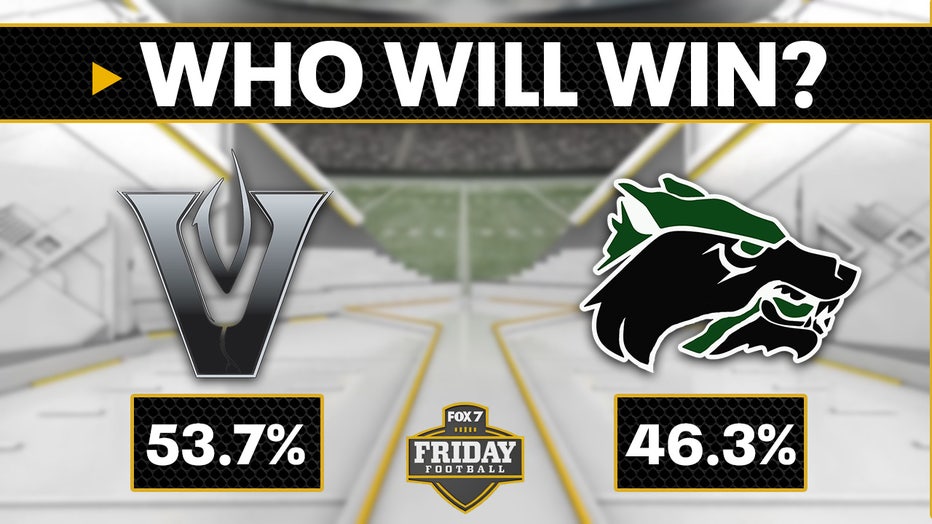 53.7% of voters chose the Vipers to win over the Timberwolves (46.3%). 
The Vipers dominated against Cedar Park 47-17 Friday night, winning yet another matchup and going 2-0 for the start of the season.
View the Week 2 highlights and scores here.