Lago Vista house fire burns over Lake Travis; house 'a total loss'
LAGO VISTA, Texas - A cloud of black smoke lifted over Lake Travis Saturday night.
Crews from Cedar Park and Travis County battled a home fire in Lago Vista.
"Unfortunately, with all the efforts that we had, we did the best that we could," said Brittney Garner, the battalion chief for the Travis County ESDI. "The house was a total loss before we ever arrived."
Video sent to FOX 7 Austin by a viewer shoes the fire burning at a structure beyond the shore of Lake Travis.
Fire officials believe it started because either a jet ski or a Tesla caught fire in a garage.
"It's hot right now," said Garner. "We're all experiencing just high fire danger with everything and the winds, so just doing the best we can to mitigate that, but unfortunately, it's not on our side this time right now. We are doing the best we can."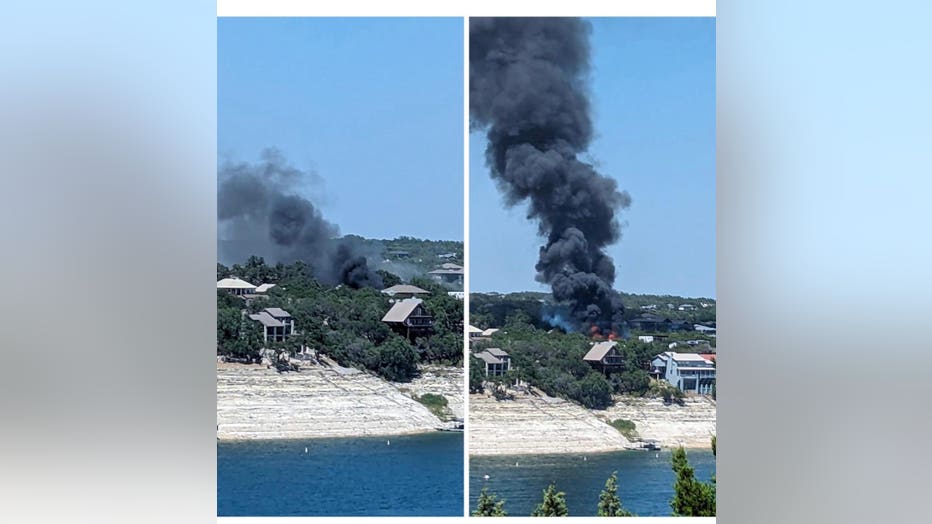 Courtesy Austin Fire Department. ( )
Crews said no other homes or structures nearby were damaged but making that happen was a battle in it of itself.
"Just the high winds with the high fire danger, we also had to deal with a lot of floating embers from the wind and work with kind of our surrounding houses here," said Garner.
Garner added fire crews fought mother nature, time, and water pressure.
"We were able to tap into another hydrant around a corner to maximize our efforts," said Garner.
They said no one was home, and no one was injured.
FIRES IN CENTRAL TEXAS
"As much as our efforts are on that fire containment, our biggest efforts are on our people and making sure that we are safe," said Garner.
First responders said if there's one thing everyone can do to help right now, it's trimming trees and bushes, and cutting down grass. That could help prevent the spread of a fire.