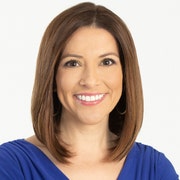 Amanda Salinas
Anchor/Reporter
Amanda Salinas co-anchors Good Day Austin and is thrilled to be a part of the show.
The multiple Emmy Award winning journalist grew up on the Texas border in Laredo. She graduated from the University of Texas with a bachelor's degree in Broadcast Journalism.
Amanda is fluent in Spanish and an active member of the National Association of Hispanic Journalists.
When she's not working, you'll find her in the gym burning off the calories from the day before or reading a good book. Amanda and her husband are the proud parents of two very active children Coco and Michael.
The latest from Amanda Salinas
Investigators are looking at what sparked a fire at a home in Northeast Austin.
Pflugerville Police Chief Jessica Robledo was the city's first female and Latina police chief.
The Austin Fire Department said it was the homeowner's own firework that led to the flames, but the homeowner tells a different version of the story. 
Police are investigating after a person was shot and injured at a corner store in South Austin.
Following the death of 19-year-old Tardrick "Trollie" Fowler, Jr., his family is asking for answers from the Austin Police Department.
FOX 7 Austin's very own Good Day Austin anchor Amanda Salinas will be joining the school district next week! 
Estilo owner Stephanie Coultress O'Neill shares her experience as a small business owner during the coronavirus pandemic.
Some big names will be performing during this year's ProRodeo and Concert Series.
Nashville-based singer/songwriter Dani Jack stopped by Good Day Austin with acoustic guitarist Steven J. Push to perform her latest single "Dance," released in October.