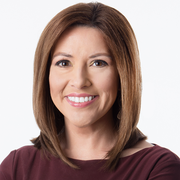 Amanda Salinas
Anchor/Reporter
Amanda Salinas co-anchors Good Day Austin and is thrilled to be a part of the show.
The multiple Emmy Award winning journalist grew up on the Texas border in Laredo. She graduated from the University of Texas with a bachelor's degree in Broadcast Journalism.
Amanda is fluent in Spanish and an active member of the National Association of Hispanic Journalists.
When she's not working, you'll find her in the gym burning off the calories from the day before or reading a good book. Amanda and her husband are the proud parents of two very active children Coco and Michael.
The latest from Amanda Salinas
Nashville-based singer/songwriter Dani Jack stopped by Good Day Austin with acoustic guitarist Steven J. Push to perform her latest single "Dance," released in October. 
Veterans and their families gathered at Camp Mabry on November 18 for a free meal thanks to Jack Allen's Kitchen and Salt Traders Coastal Cooking.
Two men were shot in Southeast Austin late Tuesday night, according to Austin Travis County EMS.
Rachel Belkin is a teacher, a wife, a mother of two and a 10 year breast cancer survivor.
In the last decade, Renee Sendalbach has epxerience more medical setbacks than one person ever should.
After recent flooding from Imelda, many Texans are questioning how they can help their affected neighbors.
Tips for planting those fall vegetables from gardening expert Mark Gibbs.
It can be tricky to navigate relationships with new family members.
A new report finds that first time in history Americans are more likely to die from an opioid overdoes than from a car accident. Recovery Unplugged's Director of Outreach Joseph Gorordo talks about the findings and the recovery process.