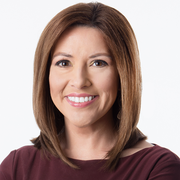 Amanda Salinas
Anchor/Reporter
Amanda Salinas co-anchors Good Day Austin and is thrilled to be a part of the show.
The multiple Emmy Award winning journalist grew up on the Texas border in Laredo. She graduated from the University of Texas with a bachelor's degree in Broadcast Journalism.
Amanda is fluent in Spanish and an active member of the National Association of Hispanic Journalists.
When she's not working, you'll find her in the gym burning off the calories from the day before or reading a good book. Amanda and her husband are the proud parents of two very active children Coco and Michael.
The latest from Amanda Salinas
In the last decade, Renee Sendalbach has epxerience more medical setbacks than one person ever should.
After recent flooding from Imelda, many Texans are questioning how they can help their affected neighbors.
Tips for planting those fall vegetables from gardening expert Mark Gibbs.
It can be tricky to navigate relationships with new family members.
A new report finds that first time in history Americans are more likely to die from an opioid overdoes than from a car accident. Recovery Unplugged's Director of Outreach Joseph Gorordo talks about the findings and the recovery process.
The Good Day Austin team answers some questions from viewers about their dating dilemmas. 
On Thursday, July 18, 2019 the Texas Chapter of the organization behind the annual GRAMMY Awards® will host an evening gala that brings together Recording Academy members and leaders, as well as music industry supporters, to recognize its years of service to the music community. 
Zfluence is a platform that connects influential members of Generation Z with the brands that they love and allows them and empowers them to become ambassadors for those brands.
Ley Line stopped by the studio to talk about their new single, "Oxum" which is their song for fresh water.  The song releases September 19th along with a show at the Cactus Cafe. The band started as two duos, but after meeting in Telluride, Colorado, instantly realized they harmonized perfectly and decided to join forces as Ley Line.