FOX 7 Friday Football Game of the Week: Manor vs Vandegrift
AUSTIN, Texas - Week 6 of the Central Texas high school football season brings another FOX 7 Friday Football Game of the Week!
Every Thursday, FOX 7 Austin will feature one upcoming high school football game and offer you, the viewer, the chance to vote on who you think will win.
FOX 7 Austin is now on the FOX LOCAL app available through Apple TV, Amazon FireTV, Roku and Google Android TV!
This week's matchup is between two Class 6A teams: the Vandegrift Vipers and the Manor Mustangs.
The Class 6A 5th ranked Vipers are putting their unbeaten record on the line as they host the Mustangs this Friday.
On the heels of a state championship game appearance in 2022, Vandegrift has continued its dominated ways in 2023 and won its first four games by an average of 29 points each. 
The Vipers will be heavy favorites to move to 5-0 on the season this week, but the opponent, district foe Manor, could be their toughest competition to date. 
The Mustangs (3-1) are coming off a come-from-behind double-digit win over McNeil to open district play. 
Both Manor and Vandegrift had two weeks to prepare for this match-up, as both are coming off bye weeks.
Will the Vandegrift Vipers stay unbeaten or will the Manor Mustangs hand them their first loss of 2023? Vote below
RESULTS
Unfortunately, despite viewers throwing their support behind the Mustangs, Vandegrift won the matchup and kept their unbeaten record.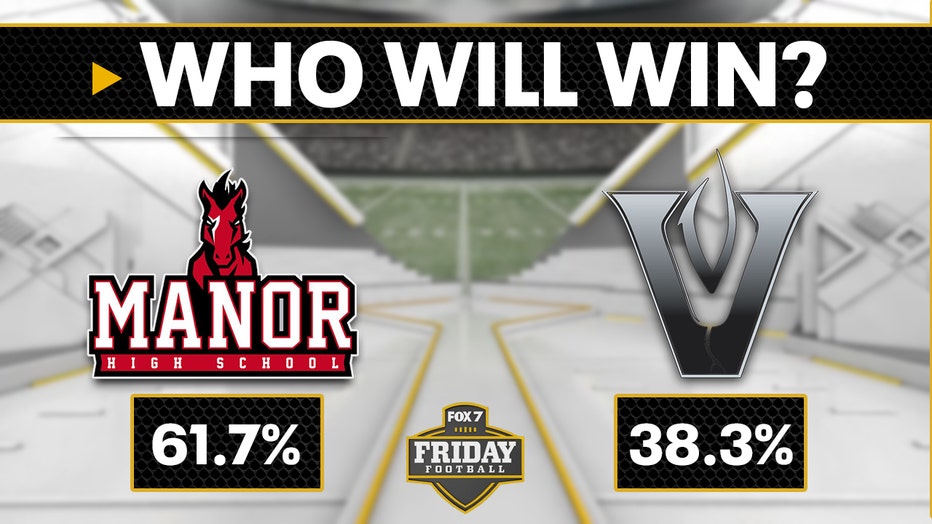 61.7% of voters chose the Mustangs to win over the Vipers (38.3%).
The Vipers kept Manor in single digits 51-6 Friday night, making Vandegrift's season record 5-0 and ranked No. 1 in Class 6A play.
View the Week 6 highlights and scores here.