Round Rock man charged with murder in northeast Austin home invasion that resulted in two dead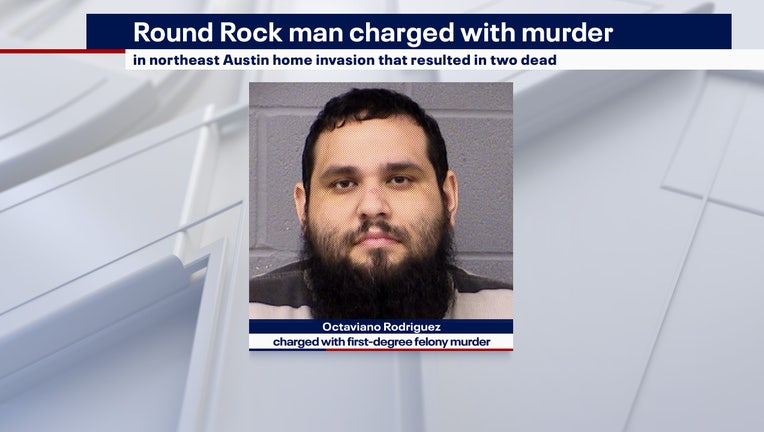 AUSTIN, Texas - A Round Rock man has been charged in connection with a northeast Austin home invasion that resulted in two deaths.
Octaviano Rodriguez has been charged with first-degree felony murder.
According to court paperwork, Austin police officers responded to a shots fired call at an apartment complex on East Parmer Lane on Feb 18 just after 10:30 p.m. Two callers reported gunshots and screaming coming from a building and another reported two men and a woman had attempted to break into his apartment, saying also a man had been shot and was possibly dead.
RELATED: APD holds press conference after Austin home invasion leaves two dead, one injured
Officers arrived and found a woman, later identified as Casaundra Hernandez, in the breezeway near the apartment with a handgun under her body, black gloves on her hands and a large empty duffle bag nearby. She was unresponsive and had multiple gunshot wounds to her body, says court paperwork. Officers attempted to provide medical aid to her, but when EMS arrived, they determined she was dead.
Officers entered the apartment and found a second suspect, a Hispanic man in his 20s, with an apparent gunshot wound and wearing a mask over his face and black gloves on his hands. The man, later identified as Emilio Maisonet, was pronounced dead at the scene, according to court paperwork.
RELATED: APD: Residents fatally shoot two suspects in home invasion
Officers heard a man screaming for help in the parking lot, finding a third male suspect on the ground behind a set of bushes. He was heavy-set and had a full beard. Officers also found a yellow construction vest with apparent blood next to him. The man, later identified as Rodriguez, had a gunshot wound to his leg and was transported to the hospital with life-threatening injuries.
The resident who called 9-1-1 told officers in a statement that he was watching TV in the living room with his roommate when he heard a knock on his front door. He looked through the peephole and saw a heavy-set Hispanic man outside with a full beard and wearing a hardhat, T-shirt and construction vest. He asked him who he was and the man replied "City of Austin." The resident opened the front door and the man forced his way inside, placing a pistol to the back of the resident's head and forcing him away from the door. The resident said a second man and a woman followed the man inside.
RELATED: 2 killed, another injured in deadly Northeast Austin home invasion
The resident fell to the ground and heard three to four gunshots, then said the second man fell on top of him and had a gun in his hand. He took the gun and put it on the dining room table. He then saw the Hispanic man in the construction vest and the woman leave the apartment.
Officers also interviewed the roommate who said he heard a knock on the door and saw a man wearing a construction vest and hardhat standing outside. He saw the resident open the door and the man force his way inside along with two others. He said he believed the suspects were armed with handguns and the second person was wearing a mask and the third was wearing a hooded sweatshirt. The roommate went to get his handgun from his bedroom to defend himself and his roommate. He said one of the suspects fired at him, so he returned fire. He said he believed the other suspects were shooting at him so he fired at them as well. He saw the man who initially forced his way in flee the apartment.
DOWNLOAD THE FOX 7 AUSTIN NEWS APP FOR YOUR MOBILE DEVICE
A search warrant was executed for the apartment and detectives found drugs and a large amount of cash inside, along with the firearm used by one of the suspects and a set of zip ties on the ground near the front door.
The resident later positively identified Rodriguez in a photo line-up as the man wearing the hardhat and construction vest who forced his way into his apartment.
According to the affidavit, due to the fact that during the commission of a felony, Rodriguez committed an act "clearly dangerous to human life" by actively participating in the burglary with co-conspirators armed with handguns, which resulted in the unintended deaths of Hernandez and Maisonet, he has been charged with first-degree murder.
Bond has been set at $250,000.