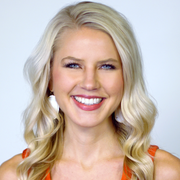 Tierra Neubaum
Feature Reporter
Tierra joined FOX 7 Austin in December 2018 as Good Day Austin's feature reporter. She's excited to highlight the fun people, places and events that make Austin such a unique city.
Tierra is no stranger to Austin as she studied at The University of Texas, where she received a degree in journalism. She recently married her high school sweetheart and is thrilled to be back in Austin! Tierra loves shining a positive light on the community.
In her free time, she enjoys traveling and being active and outdoors with her husband, family and friends. When she's not creating a new recipe in her own kitchen, she loves trying new cuisine and restaurants throughout Austin's vibrant food scene. If you have an interesting story idea, Tierra encourages you to reach out and let her know!
The latest from Tierra Neubaum
For most people Christmas is the most wonderful time of the year but for others the phrase is more applicable to when the Girl Scouts begin selling their cookies! 
The 30th annual Souper Bowl of Caring kicks off as the community comes together to tackle hunger.
A person residing in Travis County has been diagnosed with the measles. Measles is a virus that is spread through the air through a cough or sneeze. To exercise caution the APH is working with health departments in Central Texas to alert people of specific times and locations that people might have been in close contact with the patient. 
The Austin Police Department, Texas Rangers, FBI and Houston area authorities were at a home on Bo Jack Drive in Harris County overnight. 
Looking for a spot to wear that ugly Christmas sweater or just want to hang out in a festive holiday atmosphere? There's plenty of fun spots do just that in and around Austin.
Giving Tuesday is the Tuesday after Thanksgiving and organizations in Central Texas are joining in on the international day of charitable giving.
You can help raise money to help feed Central Texas kids in need by choosing from thousands of handmade bowls, enjoying some soup from local restaurants and listening to some live music.
Austin Independent School District board members are voting on a plan tonight that could include several school closures.
 With just five days until the scheduled execution of death row inmate Rodney Reed, the push to save his life ramps up.